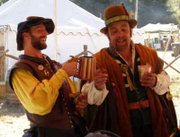 KINGS VALLEY -- The merriest of elements from the times of Shakespeare and Elizabeth I await visitors to this weekend's 13th annual Shrewsbury Renaissance Faire.
The award-winning festival takes place Saturday and Sunday, Sept. 13-14, near the intersection of Highway 223 and Grant Road at the Polk-Benton county line, just south of the Ritner Creek Bridge in Kings Valley.
There will be at least 125 artisan, food and entertainment booths this year, and as many as 1,000 people helping behind the scenes, according to festival organizers.
Each year, Shrewsbury's organizers transform a farm field into an English village full of "blythe and merry" lads and ladies and their guests. Once visitors enter between the stone archways, they, too, can feel free to suspend their disbeliefs and play along. Bow to the queen, dance with a merry maid, buy a sword, raise a glass, wear feathers and cotton, yell "Huzzah" for your favorite jouster, and eat with your fingers.
Some 15,000 visitors came to last year's Shrewsbury Renaissance Faire to celebrate the English Renaissance. The event in 2004 was named winner of the Oregon Ovation Award from the Oregon Festival & Events Association as the state's best festival.
This is an all-day, family-friendly affair. Stroll through the village and smell the roasting curries, the turkey legs, the potatoes. Feel the thunder of horses' hooves on hard-packed earth as knights battle for the attention of the ladies. Stroll through the beer tent and listen to the impromptu singing of the revelers -- or join them. You can even have your palm read by a gypsy.
The Shrewsbury Renaissance Fair runs from 10 a.m. to 6 p.m. each day. Tickets are $9 for adults, but attendees can get $1 off their ticket price by downloading a coupon at www.shrewfaire.com. Tickets for seniors and children 6-12 are $5, and children 5-and-under are admitted free. Parking is also free.
The web site is also a resource for learning about this golden age of English history, and if you want to dress properly when you go, the web site will tell you how to do it. There's also a map with directions to this far-flung place.
For more information: www.shrewfaire.com.