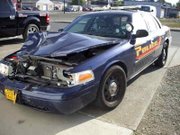 MONMOUTH -- A Monmouth teen was arrested on Sept. 9 after allegedly stealing a police cruiser while in a drug-induced haze and leading officers on a chase around the city.
Keioko Kanakoa Rosimo, 19, faces a string of criminal charges, including felony attempt to elude, misdemeanor attempt to elude, disorderly conduct, unauthorized use of a motor vehicle, and driving under the influence of a controlled substance.
He is also accused of failure to perform duties of a driver, reckless driving, first-degree theft, first-degree criminal mischief and two counts of harassment.
Rosimo was arraigned in Polk County Circuit Court last week.
Rosimo caused at least $5,000 in exterior front-end damage and popped two tires of a Monmouth police car after hitting several parked vehicles during a short chase through residential areas, said Sgt. Kim Dorn.
"I started here 12 1/2 years ago," said Dorn, "and there's been nothing like this that's happened since" then.
The incident began at 10:51 p.m. Sept. 9 when Officer Mark Robertson had parked his marked 2006 Ford Crown Victoria at the intersection of Craven and Main streets while conducting a traffic stop.
Rosimo, who wasn't involved in the stop, happened by the unoccupied vehicle, jumped inside Robertson's car and drove off, Dorn said.
Other officers chased the stolen patrol vehicle, which had its lights flashing, around the city at low speeds for about 10 minutes. Rosimo hit two parked cars and a curb before pulling into and parking in the driveway of an acquaintance in the 800 block of Griffen Drive, Dorn said.
Rosimo exited the car, started jogging away and scuffled with authorities before he was Tasered and arrested, Dorn said.
A Monmouth officer who's also a drug recognition expert, was called to the scene and opined that Rosimo was under the influence of marijuana and hallucinogenic mushrooms when he took the car, Dorn said.
Regarding how the theft could happen, Dorn said it's standard practice for officers to leave their cars on and unlocked during traffic stops.
"I don't know of any officer who locks his door during a traffic stop because we're right there with the vehicle," she said. "We leave it running because we have (computer) equipment inside running and we don't lock it so if we need to we can get back in quickly."
Rosimo is a freshman at Western Oregon University. Tina Fuchs, Dean of Judicial Affairs, said once she received a police report, there would be a review to see if he violated the school's code of student responsibility.
"The university may or may not (then) provide consequences," Fuchs said.