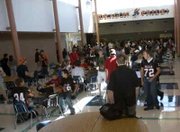 DALLAS -- Eating bagels and cream cheese on the floor of the halls at lunch. Bumping into others in traffic jams between passing periods. Desks so close together in classrooms you can barely move.
Welcome to Dallas High School, where students, teachers and administrators deal with building congestion and inefficiencies on a daily basis.
Dallas High School has served the community's teenagers well since it was built in 1954, but now with population growth, the 1,020 students are packed in the lunchroom, science labs and classrooms.
A $79.5 million school bond will be on the ballot this November to build a new high school. Some district residents argue that the current space is adequate and the state of the economy means residents would have a hard time paying $2.42 per $1,000 of assessed value on top of the current district tax rate of $1.67 if the bond was approved.
Letters to the editor contain numbers and data about the schools that have only further confused residents.
"(The letters) may not be intentionally misleading, but they are not a reflection of reality," Dallas High School Principal Keith Ussery said.
The school now holds what may be the largest class of freshmen in Dallas School District's history. If the enrollment growth continues, Dallas High could have as many as 1,110 students in 2012.
The current building capacity is 1,020 students.
"A new, well-designed high school facility would allow us to make decisions about learning and teaching based on what we know works best, not based on what our current facility can or cannot accommodate," Ussery said.
During all-school assemblies, students fill all seats and sit on the floor. Ussery is worried that soon the school may not be able to gather everyone in one space without seriously violating the fire code.
Students have to double up on locker space to store their books and belongings between classes.
In looking into the space issue, some district residents obtained a map of the school, counted the number of classrooms and allotted 30 students to each room. They found that there was enough room for the current amount of students -- and a little room to breathe.
However, Ussery said they counted storage spaces and offices as classrooms, and fitting 30 students in one standard-sized classroom is a tough learning environment because there is little space.
Also, classrooms dedicated to in-school suspension, special education and the teen-mother education program cannot hold 30 students. Classes with that many students would be difficult for teachers and inadequate for those students with special needs as they require more personal attention, Ussery said.
Science labs with peninsula counters look spacious when the rooms are vacant, but once 30 students pile in to work with acids, bases and microscopes, there is little elbow room.
New state requirements have added a science course requirement for students to receive a diploma. The school will have to hire a new teacher to accommodate the requirement, but there is no classroom for that teacher, Superintendent Christy Perry said.
Despite the small size of the lunchroom, Ussery said he is only willing to hold one lunch rather than multiple because planning the class schedule around feeding students detracts from keeping learning as the priority. Suddenly, the priority becomes feeding students instead, he said.
Perry said students will not receive marble countertops at the new school, but simply adequate learning space. She said conference rooms and the theaters at the current school have already been turned into classroom space. Teachers are getting by, but they shouldn't have to just get by.
Ussery said the school could add a couple of modular classrooms for a short-term fix, but that would mean less space for parking, physical education activities and eliminate athletic field space already at a premium in the community.
On a tour of the school, Ussery showed the one unoccupied space -- the old metals shop. He said metals teachers are in short supply and too expensive to hire, and the room contains many archaic and dangerous pieces of equipment.
Computer labs are dedicated to testing and classes and unavailable for open lab space. Flex spaces like the library double as classrooms and cannot be used while instructors are teaching.
Ussery said a larger high school would mean teachers and administrators wouldn't have to make compromises where they shouldn't.
"We wouldn't be making do," Ussery said. "We would really have what we need. We could live here longer, but we are the solution to (overcrowding) everywhere."
If the bond measure is approved, the middle school would move into the current high school building once a new high school is constructed, and the current middle school would be renovated and become home to the district's fourth elementary school.
Perry said building a new elementary school would not take care of the overcrowding at all levels and it would change grade configurations at schools. In addition, the school board, she added, would have to come back in just a few years and ask for more money to build a high school to handle the growth in enrollment.
Extra athletic and theater space at the new school will free up fields in town to expand youth sports teams and open up much-needed meeting space for community use, officials said.
In the end, Perry said it is important for voters to support the schools that teach local residents.
"Somebody else paid for their education," Perry said. "It's what we do in this country to have a free and appropriate education for every child."