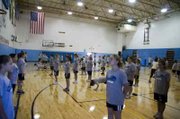 DALLAS -- LaCreole Middle School is arguably the most overcrowded building in the Dallas School District.
Superintendent Christy Perry identified it and Oakdale Heights Elementary as having the worst crowding issues of all schools simply because of how the buildings were constructed. With the middle school divided into pods, it doesn't allow a lot of room for growth.
LaCreole Principal Steve Spencer said he has to schedule three different lunch periods -- one for each grade level -- because there is simply nowhere for all of the students to sit and eat at one time.
"It works for us," Spencer said. "We have to make it work."
LaCreole's 115,806-square-foot facility is bursting at the seams. Its capacity is for 728 students -- 779 are enrolled as of mid-September. Based on growth projections, enrollment could easily reach more than 800 students by 2011.
Built in 1966, LaCreole was remodeled in 1975 and 1996.
Classrooms are sequestered in three different pods, and administrators have traffic between class periods down to a science.
"It's pretty tight clockwork," Spencer said.
The end of class bell sounds and seventh-graders have to be through the halls to classes before 265 eighth-graders stampede into four different hot lunch lines.
The lunch situation is even worse when it rains, Spencer said, as there is no outside space to eat and more students have to be crammed into indoor lunch tables.
Three lunch periods also means less time for drama class, as the classroom is technically the stage in the same multipurpose room. Upon visiting the school, a small circle of desks is set up on the stage open to the lunchroom, acting as a classroom.
Spencer said the most dire need of the school is cafeteria space, but a larger gym for all-school gatherings, more classrooms to accommodate special education, and updated science labs that would be available with a move to the current high school would give students and teachers much-needed breathing room.
If the district's $79.5 million construction bond passes in November, the middle school would move into the current high school building after a new high school is constructed. The current middle school would become a fourth elementary school. Superintendent Perry said the Dallas School Board came up with this plan to ease crowding at all grade levels.
The space and renovations will cost district residents a maximum of $4.09 per $1,000 over 25 years, Dallas School District Business Manager Tami Montague said. A rate of $2.42 will be added to the existing $1.67 per $1,000 from a previous bond until 2012, then the $4.09 total rate would continue until 2034.
Montague said the amount could not increase, but may decrease over time, depending on the amount of tax payers' debt services.
LaCreole administrators said the school is pushed to capacity, and Spencer said their "we can make do" mentality just won't work anymore.
Spencer said if the bond fails, a short-term solution would have to be found. That solution would likely mean the city would lose athletic fields on the school site to accommodate new modular classrooms.
The best part about LaCreole's current design, according to administrators, is that grade levels are grouped in pods that protect the youngest from the oldest students. Some parents have expressed concern about losing that at the current high school.
But the current high school would be renovated so the sixth-graders could have their own special pod, Spencer said.
Spencer and LaCreole Vice Principal Tim Larson talked about the gym space at the current high school with a sparkle in their eyes. Today, fire watchers have to stand in the LaCreole gym because all-school assemblies break the room's fire code capacity.
Everyday, the same gym holds 100-student P.E. classes each class period. The old wood shop is used by a teacher reading with special education students, and 30 broken chairs and desks are hauled into the weight room for the health unit.
There are 42 teachers at the school and 44 classrooms. However, that count of classrooms includes the multipurpose room, gym and the weight room.
And as terrifying as learning how to use a stove and oven is in foods classes already, imagine turning on the sink and finding only cold brown water. The foods teacher has to run the water for a day ahead of time to prep for a cooking lesson so her students can have clear water. The students have to boil water to wash dishes.
Science classrooms aren't adequate for learning either, Spencer said. Many do not have enough electrical outlets along the walls to work with microscopes and teachers have to trade classrooms for certain lessons to use equipment. Only one classroom has sinks, lab tables, storage and an emergency eye wash station.
Adding one teacher would mean teachers would have to share classrooms, hampering prep time and personalized space.
The drama teacher, Juli Ann Lindemann, said she had to turn away 25 students this year from her class because there wasn't enough room. Spencer said regular class sizes also increase when there isn't enough room for elective courses that can better disperse students.
The biggest class is eighth-grade social studies, with about 32 students.
Spencer summarizes his school's issues much like Dallas High Principal Keith Ussery did his.
"We are making decisions in our school based on a facility, rather than what is good for our kids," Spencer said.
For more information about the school bond, e-mail Newschool@dallas.k12.or.us or visit www.dallas.k12.or.us.