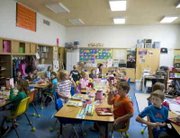 DALLAS -- Imagine a building where nearly every space is used for two or three different purposes throughout the week.
Imagine your office is in a windowless janitorial and storage closet, your small desk shoved in a dark space near the door under a top shelf full of old dusty Christmas tree stands.
Lyle Elementary is the second oldest school building in the Dallas School District still used to teach students. Morrison Alternative Campus is the oldest, built in 1935.
Every space in Lyle must meet the needs of the school and is double booked nearly every day at nearly every hour.
Upon entering the elementary school at lunchtime, students, who eat in their classrooms because there is no lunchroom, scoop orange gelatin and salad onto plastic trays from salad bars located in the middle of the foyer near the school office.
"It wouldn't be our first choice for folks (to see) visiting the building," Lyle Principal Todd Baughman said. "Every space we have is virtually double occupancy and purpose."
The building was constructed in 1950 and had additions in 1953, 1969, 1975, 1990, 1995 and 1998. Permanent capacity of the school, including its two modular classrooms, is set at 460. One modular is now used for special education and can only accommodate 15 students, which decreases overall capacity, Baughman noted.
Baughman said 436 students are currently enrolled, At capacity, there are no empty rooms or office spaces.
Based on enrollment projections, the school could see as many as 462 students by 2011.
The biggest need Baughman identified was to be able to offer full-day kindergarten. Currently, the school has two kindergarten classrooms, one for morning and afternoon, and another for kindergarten and Title 1 programs. The full-day option, which the state of Oregon likely will soon mandate, would require another classroom or two that the school simply doesn't have.
Baughman said he is worried about having the funding for full-day kindergarten because he wouldn't know where to put students.
"It would be a shame for that funding to come through," Baughman said. "It would be a horrible feeling not to be able to offer that (program)."
Adding more modular buildings for classrooms to the 24-acre site would mean giving up athletic field space used by a number of community programs.
Baughman said fourth grade currently has the largest class size with an average of 30.
The school has a sky blue library with an attached computer lab that is often booked for testing. That leaves little lab time for teachers to reserve for class research. Other computers in the school line the already crowded hallways due to lack of space.
Lyle features orange traffic cones in the halls to direct foot traffic so there aren't any dangerous accidents. The amount of students and extra equipment like computers, printer stations and recycling bins in the narrow halls means there are many obstacles.
A dark storage room was turned into a reading room that also houses two instructional assistants and the "reading buddy" program. The desk in the closet under the shelf of Christmas tree stands belongs to the fifth-grade instructional assistant, who is actually lucky to have more than a locker for her things.
The speech therapy room doubles as an office for the school-based therapist and special education assistant. The most creative use of space, based on observation, is the old basement locker room and shower area. It is now used as a teacher copy center, storage area and student meeting room for Title 1 students and assistants.
As with most other schools in the district, the gym capacity is low at 299 students. For all-school assemblies, fire watchers make sure students stay safe.
"It requires a bit of conversation about fire escape practices," Baughman said.
In one of the modulars used as a music classroom, the choir had 91 students participate last year, all crammed onto tri-level risers.
Lyle also has an infamous parking problem with just 68 total spaces.
"We have virtually that (amount) in staff alone," Baughman said.
He said this setup is barely adequate. During peak traffic times, staff members head out to the lot to channel cars through and point out open spaces. He said a smaller amount of students in the school would ease the traffic issue.
Although his priority would be setting up the school for full-day kindergarten, Baughman said he would also like more computer lab space, an addition for the popular music program, and to redesign the parking lot.
Making the building more Americans with Disabilities Act accessible is also on his wish list as there is only one automatic door and two handicap parking spaces. Also, both fifth-grade classrooms are down narrow steps that wheelchairs could not possibly access.
For more information about Lyle or the issue of overcrowding in the district, visit www.dallas.k12.or.us.