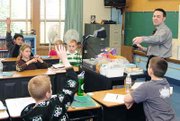 DALLAS -- When Dr. William Peffley visits class, it feels like the perfect combination of Halloween and gym class.
Peffley, 37, volunteers his time away from his medical office in Dallas to educate fifth-grade students about the harmful effects of tobacco in a unit titled "Tar Wars."
"When I came to a small town I just wanted to be part of the community," Peffley said. "I put all efforts into the kids."
Last week, the lucky school was Lyle Elementary. He walked into teacher Carrie Stark's bright blue classroom with a smile on his face and huge bags of candy in his arms.
The kids knew this was a good sign and happily volunteered with quietly raised hands to be rewarded with a sweet treat -- or three.
"Oh my gosh -- you guys are like a dream come true with your hands," Peffley gushed. "I'm going to get you all hyped up for when you go home this weekend!"
Who knew tobacco prevention could be such fun?
And the lesson seemed to be effective. Peffley told the kids that tobacco use ranges by age group. About 2 percent of fifth-graders, 25 percent of 10th-graders and 20 percent of adults use tobacco products, according to his statistics.
"They're doing it because their friends do it," explained one student.
Another child said his mother smoked to stay thin. But these kids already knew many of the harmful effects before the lesson.
"You smell really bad and get wrinkles when you are old," another student said.
Next, plastic drinking straws were distributed and students were directed to pinch their noses and breathe through the straw with their mouths.
The next thing they knew, Peffley asked them to run in place and jump up and down to feel the physical effects of smoking on their lungs. The whole class was bobbing up and down, hyper because of the sugar in their systems. It was quite a sight.
After Room 16 was exhausted, they quieted down and talked about how expensive smoking is if you do it every day -- $5 a day for one pack, or $1,825 each year, Peffley said.
"I would rather have a Subway sandwich," one boy remarked.
Peffley said the kids could use that money to go to Disneyland each year rather than smoke.
Peffley said his goal is to inspire the students to approach their parents to stop smoking in a loving way.
"I would (like) the money to go to the kids than to cigarettes," Peffley said.
And this is not the last time these fifth-graders will have a visit from Dr. Peffley. He will be back in later weeks to teach about puberty. No doubt it will be both embarrassing and fun.