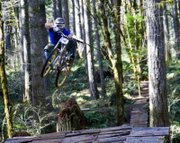 FALLS CITY -- The trails within the Black Rock Mountain Bike Area are, for practitioners of the sport, a kind of blessing that stems from its natural terrain and the blood, sweat and tears of volunteers who worked for years to build it.
So you'll forgive Rich Bontrager if he gets "a little frustrated" when people who flock to the site don't abide by its few, simple "no trespassing" or speeding rules.
"We have a unique situation here and a delicate situation," Bontrager, president of the Black Rock Mountain Bike Association (BRMBA) said, describing the agreement between his organization and the Oregon Department of Forestry that allows the trails to exist for public use.
"People need to be well aware that their behavior could jeopardize us not having the trails at all," added Chris Eggan, a BRMBA trail manager.
Because access to the 989-acre forest parcel west of Falls City cuts directly through the Tapawingo Camp and Retreat Center, riders are not allowed to drive past the camp's official entrance.
And they must heed a 15 mph speed limit when pedaling their bikes through the facility to get to and from the trails.
Since the trail system opened, however, there's always been a small percentage of visitors who ignore the "do not enter" sign, or blow through the camp at high speeds, which puts young campers in danger, Bontrager said.
John Barnes, ODF public use coordinator, said to date there has fortunately never been such a collision, and only a handful of trespass incidents.
"But it's the small minority that gives the whole group a bad name," he said.
If Tapawingo or surrounding commercial landowners ever formally complained about trail riding activity, the ODF would have to weigh closing Black Rock, Barnes said.
And his agency can't police what's happening on the way to the trail or in the camps, so it's up to the club to get out the word do so, he added.
As Black Rock's popularity grows, the problems have lingered. So BRMBA leaders have been more heavily signing the site parking lot and trail access, and asking regulars to act as stewards and remind newbies to follow the guidelines:
* Do not drive vehicles past the Tapawingo gated entry and do not ride off the trail access road through the camp.
* Do not exceed the 15 mph speed limit through the camp.
* Be courteous when parked at the camp entrance. Watch your language and no loud music.
* Leash your dog while passing through camp property.
For more information: www.brmba.org.