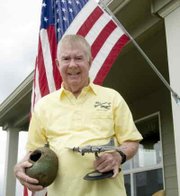 DALLAS -- Normal people probably would not want to receive 50 pounds of rusted metal scraps from decades ago.
However, Stanton Rickey, a retired U.S. Air Force colonel and ex-prisoner of war, accepted the scraps with open arms.
They were the last pieces of the B-17 bomber he was piloting that was shot down in an air battle in 1944 over Germany.
"It was like a movie -- airplanes were exploding and parachutes all over the sky," Rickey, a Dallas resident, said.
Rickey was inducted into the Oregon Military Hall of Fame April 18 for being an ex-POW. Jim Gadberry, the development director of Remembering America's Heroes, said Rickey and 275 other ex-POWS were honored that night -- and probably for the first time collectively in the state.
That honor was just the cherry on top of the past couple of years of Rickey's life. Now 88 years old, he is incredibly lucky because of his experiences in the military and the work of one battleground historian.
His story begins in the air.
--
On July 18, 1944, Rickey was flying his 10-member crew in his B-17 to bomb Memmingen Airfield in southern Germany with 26 other planes. The bombers were met by 200 German fighters that shot down 14 of the B-17s, including Rickey's.
Five of his crew members were killed and three others were wounded.
"I was one of the lucky ones," Rickey said.
He parachuted out and landed in some trees. The young pilot
made his way to the Swiss border stealing clothing and even a bike along the way. Unfortunately, he was captured near the border by German police, sent to Frankfurt for interrogation, and then to Stalag Luft One -- a prison camp in northeast Germany.
"It was harsh, but fair (in the prison)," Rickey said.
Conditions were crowded as the camp held 9,000 U.S. and British airmen. The prisoners ate well until the last three months of his 10-month imprisonment. He said the staff was instructed to kill them all and rather than shoot them they starved them. He was only allowed one bowl of soup and a piece of bread each day.
The camp was liberated by Soviet troops on May 1, 1945. He weighed only 105 pounds.
After the war, Rickey flew planes for United Airlines and served in Korea and Vietnam. Later, he worked at Target Intelligence and War Planning at the Pentagon, Tactical Air Command and Pacific Commands. He retired in 1971.
--
Another bout of luck occurred in 2006. Ludwig Hauber, a German historian and amateur battlefield archaeologist, contacted Rickey about that fateful air battle in 1944. Hauber's uncle had been an eyewitness to that battle at age 11, prompting a search for information.
Hauber had found police reports for each crash site and conducted interviews. He had also plotted the sites on a map and found pieces of the planes using a metal detector 2 feet under the earth.
Hauber discovered an intact machine gun and used its serial number to identify its mother plane -- Rickey's B-17. The two continued to correspond via e-mail and Hauber visited Rickey twice in later years, bringing with him 50 pounds of his aircraft.
"It's incredible," Rickey said. "They're relics as far as I'm concerned even though they look like hunks of junk."
He keeps the pieces in boxes stacked in his bedroom. Plastic bags are labeled to indicate the pieces, including a piece of a helmet, access door, bomb, plexiglass from a window and shells from one of the machine guns.
The pieces just add to the collection of his POW history in Germany. Over the years, he tracked down his German mug shot, news articles on the battle and photos of the prison camp.
Rickey is interested in passing on his good fortune. He has already given some pieces of his plane to his grandchildren and they are likely to receive more to remember his heroism.