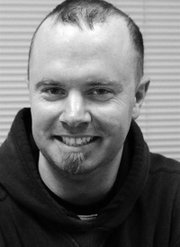 MONMOUTH -- Jeffrey Maxwell, the student kicked out of Western Oregon University for carrying a gun on campus, may re-enroll there while he awaits a decision by the Oregon Court of Appeals regarding a challenge of his original suspension.
The city of Monmouth, meanwhile, has denied a tort claim he filed in regard to what he said was an illegal arrest by Monmouth police officers on campus on Jan. 28.
No criminal charges were ever filed in the incident, which involved Maxwell, a Marine veteran, carrying a knife and pistol he had a concealed weapons permit for into the Werner University Center.
But a student conduct committee voted to suspend Maxwell for the rest of the 2008-09 school year, and required him to pen a 10-page paper on obeying the law if he wanted to return.
The Oregon War Veterans Association (OWVA) hired Salem attorney Jesse Barton to represent Maxwell and file a petition for judicial review in April with the appeals court.
The petition argues against "the validity of the suspension," Barton said.
A positive ruling for Maxwell "would let the world know that WOU violated Maxwell's rights," he added.
Western has until Aug. 27 to submit its record of all proceedings leading up to Maxwell's suspension. The court could render a decision later this year.
Barton said that Maxwell's suspension was in effect through summer term, and the only thing preventing him from re-enrolling at the school was writing the 10-page paper.
In June, Barton and WOU's legal counsel with the State Department of Justice negotiated a "stay" of the paper requirement, pending the outcome of the appeal, so Maxwell can return to Western.
"If we win, Maxwell can stay without ever having to write the paper," Barton said. "If we lose, he would have to write the paper in order to stay."
Separate litigation related to the case is ongoing. On June 28, City Council Insurance Services, Monmouth's insurance carrier, denied a tort claim against the police department and said the city wasn't liable for damages.
"That's our response," said Monmouth City Manager Scott McClure. "Now it's a matter of what (the plaintiff) does next."
WOU and some of its employees were also named in the notice. Jim Leuenberger, Maxwell's attorney for the claims, said WOU has not yet responded.