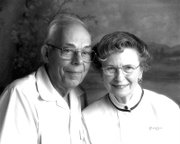 Regier -- 90th birthday
R.A. Regier of Dallas is celebrating his 90th birthday on Sunday, Aug. 16, with a reception at Dallas Evangelical Bible Church, 1175 SE Howe St.
Friends and family are welcome to share their well-wishes from 2 to 5 p.m. In lieu of gifts, a special memory in a letter or card is encouraged. Notes may be sent to R.A. Regier, 135 NW Lange St., Dallas, OR 97338.
R.A. was born July 30, 1919, in Mountain Lake, Minn.
He graduated from the College of Osteopathic Medicine and Surgery in Des Moines, Iowa, in 1955.
Dr. Regier moved to Oregon in 1964, having previously lived in Nebraska, Indiana and Iowa. He relocated to Dallas in 1967, where he had a number of friends and relatives, and opened a family medical practice. He retired from his medical practice in 1989.
R.A. enjoys gardening with his wife, Orlue, at their home, and attending services at Dallas Evangelical Bible Church.
His family includes Dean Regier and Donna Akiyoshi of Boston, Winifred Regier of Oak Harbor, Wash., Rosemary Hossenlopp of San Jose, Calif., and Scott and Jean Falley of Helena, Mont. He has five grandchildren.
More like this story