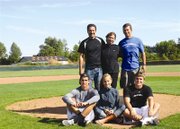 DALLAS -- Longtime Dallas residents Pat and Harold Smith grew up in the 1940s. Mom and Dad were pretty fair athletes back in the day says son Greg Smith, but they had little if any chance to display or develop their abilities because of societal obstacles.
Dad was brought up in a strict Mennonite household where such activities were frowned upon. He even had to sneak out of the house to play high school basketball. And that was a time when athletic opportunities for women pretty much began and ended with the pom-pons of a cheerleader.
"My parents never had the opportunity to play a lot of sports," said Greg Smith, approaching his 32nd year as a teacher at LaCreole Middle School. "It's hard to say how good of athletes they might have been. They just didn't have a chance to shine."
But Pat and Harold have had front row seats the past few decades as their descendants have done everything they could to balance the scales. Sons Greg (1970), Bob (1974) and Steve (1980) all graduated from Dallas High School and were star athletes.
Daughter Cherie (1968) also experienced limited sporting opportunities in her youth. But she married Mike Jenkins after graduation, and the two sent a series of star athletes through Salem schools.
Andy Jenkins, Sari-Jane Jenkins and Riley Jenkins all went to South Salem. Andy was a catcher-first baseman on Pat Riley's first Oregon State baseball team that went to the College World Series. He's playing minor league baseball in the Florida Marlins organization. Sari-Jane quite possibly was the best softball player ever for the University of Oregon and is playing professionally for a team in Ohio. Riley was a two-sport star in high school. He played football in college, starting at Oregon State and ending up as the championship-game MVP of Linfield's national title winner.
Jordan Jenkins was an all-state football player at West Salem and now is on scholarship at OSU.
At Dallas, Greg and Steve were all-state baseball players. Greg went on to play at Mt. Hood Community College and was an all-conference player at what was then Oregon College of Education. Steve was "all-world at everything" according to Greg. He went to OSU and later played minor league baseball in the Cleveland organization.
Some still believe Bob was the best running back who ever came through Dallas High School. He also brought home a number of first-place finishes from the state track meet.
"I think maybe we have a pretty good gene pool," said Greg Smith, who coached varsity baseball at DHS from 1980-87. "My mom's athleticism, my dad's athleticism and the encouragement from both of them to play sports. That's been the driving factor."
This list continues with the next generation. Greg and Candi Smith (1984 Dallas graduate) have seen sons Tyson (2006) and Tregg (2009) graduate from Dallas high School. Both earned all-state status in baseball as seniors. Tyson was an all-conference outfielder last season for Linfield as a junior. Tregg plans to play next season at Chemeketa.
Greg and Candi will watch next season as daughter Hannah tries to earn playing time with the varsity softball team. Hannah also plays basketball.
Bob Smith's daughters Angela and Allison ran on the track team. Son Aaron ran a leg on the Dallas 1,600 relay team that finished second in the 2000 state meet.
"They're a legacy," DHS baseball coach Scot McDonald said of the Smiths. "They do bleed Orange and Black. They're really into Dragon sports. Bob's daughter Allison is a senior, and she's going to be a manager for the baseball team. You get the whole family out there. And you don't just see them out for their own family's stuff. They come out for all the sports even when they don't have people playing."