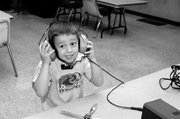 Food preservation
class scheduled
A food preservation update and overview sponsored by Oregon State University Extension Service and the Family Food Education Volunteer Program is scheduled Monday, Aug. 24.
The free class will be held from 6:30 to 8 p.m. in Room 220 of The Academy Building, 182 SW Academy St., Dallas. Preregistration is required.
The workshop will stress using current, updated preservation methods and processing times to help ensure a safe product. Using old, unsafe practices can put family members at risk for food-borne illnesses.
To register or for more information: Debra Minar Driscoll, 503-602-2651; e-mail to debra.driscoll@oregonstate.edu.
Concert, food drive
on tap Thursday
A community food drive highlights the Thursday, Aug. 20, edition of the Dallas Sounds of Summer Concert Series performance.
The drive is in cooperation with Mid-Willamette Community Action, Dallas Resource Center and Marion-Polk Food Share. All donations stay in Polk County. Donations can be made at the concert or in advance at drop-sites at Van Well Building Supply, the Dallas Area Chamber of Commerce, Dallas Aquatic Center, Dallas Public Library, Polk Community Development Corporation, and Dallas City Hall.
The concert features Graber, Souter & Rupp with special guests The City Boys. The performance begins at 6:30 p.m. at the Dallas Rotary Performing Arts Stage at the corner of Main and Academy streets.
For more information: John Swanson, city of Dallas, 503-831-3572.
Local HAM radio
operators to meet
The Radio Operators Association of Dallas (ROADS) will hold its regular monthly meeting Thursday, Aug. 20, at 6 p.m. at Abby's Pizza, 174 W. Ellendale Ave., Dallas.
Anyone interested in becoming involved in amateur radio is welcome to attend the dinner meeting.
For more information: Bob, 503-910-1096; or e-mail to w7lou@msn.com.
WV Hospice to offer
volunteer training
A free one-day training workshop for individuals interested in volunteering with Willamette Valley Hospice will be offered Friday, Aug. 21, in West Salem.
The training will run from 8 a.m. to 5:30 p.m. at the Willamette Valley Hospice office, 1015 3rd St. NW.
Volunteers ages 12 to 16 may provide office support or assist with special events; those 16 or older may help with office support or patient care. Volunteers also promote hospice education in the community. Schedules and locations are flexible.
For more information: Brittney or Melissa, 503-588-3600; brittneyb@wvh.org; melissal@wvh.org.
Gala will benefit
hospital foundation
West Valley Hospital's 10th annual Summer Gala, Moonlight & Vines, is set for Friday, Aug. 21, at BeckenRidge Vineyard, 300 Reuben Boise Road, Dallas.
The 6 to 9 p.m. event is a fundraiser for West Valley Hospital. It will feature a dinner of Northwest cuisine, wines and microbrews. There will be a silent auction and dancing to the music of the Gaylon Jay Quintet. Tickets are $45 per person.
For tickets or more information: 503-831-3456.
Fundraised planned
in Independence
A homemade craft and used treasure sale is set Saturday, Aug. 22, from 9 a.m. to 6 p.m. in the parking lot of Roth's Fresh Market, 1401 Monmouth St., Independence.
Proceeds will benefit the Leukemia Lymphoma Society.
An assortment of baby clothes and toys, children's clothes and toys, books and movies, housewares and furniture, and handmade quilts, jewelry, crafts and related supplies will be available.
For more information: Mary, 503-585-6111.
A Child's Haven
plans pony event
A Child's Haven will host its August Pony Saturday for families with children who have special needs on Aug. 22 at FenMere Farm, 15175 Oakdale Road, Dallas.
The free event, which runs from 1 to 3 p.m. rain or shine, is an opportunity for pony hugs, pony rides and other activities. Closed-toe shoes are recommended for all visitors and required for those who participate in pony rides.
A Child's Haven is a nonprofit organization. For more information: Teresa Larios, 503-837-0244; e-mail to tlarios@childshaven.org; www.childshaven.org.
Dallas Woman's
Club reunion set
The biannual reunion luncheon for former members of the Dallas Woman's Club is set for Tuesday, Aug. 25, at 11:30 a.m. at Murphy's Grill, 288 E. Ellendale Ave., Dallas.
For more information: Shirley Hill, 503-623-6766.
Tickets available
for simulcast event
Advance tickets are available at Evangelical Bible Church for the upcoming Beth Moore satellite simulcast broadcast "Living Proof Live" by LifeWay Christian Resources.
The event for women is scheduled Friday, Aug. 28, from 7 to 9:30 p.m. and Saturday, Aug. 29, from 8:30 a.m. to noon. Tickets are $25 each and available weekdays from 8 a.m. to 4 p.m. at the church office, 1175 SE Howe St., Dallas.
For more information: 503-623-2331.
Grants available
for cemetery work
Applications are being accepted for grants to help preserve historic cemeteries in Polk County and throughout Oregon.
The grants, funded by state lottery dollars, provide financial support in the areas of protection and security, restoration and preservation, education and training, research and interpretation, and projects supporting the commemoration of Oregon's sesquicentennial.
For more information: Kuri Gill, 503-986-0685; Kuri.Gill@state.or.us.