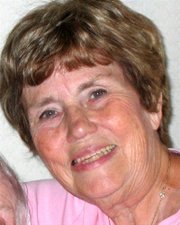 Lazy summertime weekends give us opportunities to attend and participate in family reunions, employee picnics, barbecues and good conversations.
Last weekend's 50th anniversary reunion of the On to Oregon Cavalcade was a special treat for all of us in MI Town. Folks who remembered Oregon's centennial celebration in 1959 shared stories with residents and visitors alike at Riverview Park in Independence.
Fifty years ago, the Cavalcade re-enacted the 1859 trek by covered wagon from Independence, Mo., to Independence, Ore., and several of the 10 surviving members were on hand to talk of their experience. We all had the opportunity to participate in so many activities Friday and Saturday -- there was definitely something for everyone to enjoy and to share with visitors to MI Town.
--
Just a few years after all the fun, laughter and good times of the Oregon Centennial, Mother Nature threw an incredibly nasty curve at MI Town in the form of the Columbus Day Storm in October 1962.
MI Town author and historian Betty Plude of Independence is writing a book about that storm and requests that anyone who was here during that time share their experiences with her. Proceeds from the sale of the book, which will be published in 2012 -- the 50th anniversary of the storm -- will benefit the Independence Public Library.
Contact Betty Plude at 503-838-4039 or via e-mail to elizabethplude@aol.com for more information about this upcoming project.
--
We're all familiar with the excellent emergency medical and fire suppression services provided to our community by our local firefighters. Now we have the opportunity to thank them and their families.
Saturday, Sept. 12, the Polk County Professional Firefighters Local No. 4196 and Monmouth-Independence Chamber of Commerce is sponsoring a golf tournament at Oak Knoll Golf Course. Fees are $75 per person, $300 per team, and include the use of a golf cart, greens fees, lunch and prizes.
Contact Amberly VanWinkle at 503-838-4268 or via e-mail to amberly@mitownchamber.org for information about how your organization can become a sponsor or to learn more about participating in this event.
--
This evening (Wednesday, Aug. 19) is the last summer concert in the Dave Anderson Memorial Concert Series at Main Street Park in Monmouth, with Bill Larimere and Trio featured at 7 p.m. Be sure to bring friends and family to enjoy this special event, and don't forget to thank the sponsors and merchants who have brought so much good entertainment to us all summer long.
--
Thursday evening, Aug. 20, the featured movie is "The Express," playing at dusk at Riverview Park in Independence. On Friday, Aug. 21, the River City Band will play at Riverview Park at 7:30 p.m.
--
There are still many good things available at the Monmouth Farmers Market on Wednesdays and the Independence Farmers Market on Saturdays. See you there.