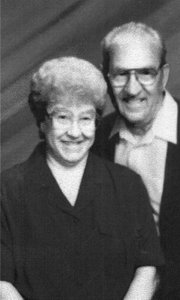 Kahler -- 60th
Ken and Betty Kahler of Dallas are celebrating their 60th wedding anniversary on Aug. 29 with a family barbecue.
Kenneth Kahler and Betty Heide were married Aug. 26, 1949, at First Christian Church in Monmouth. The Rev. John A. Hash officiated the ceremony. Melvin Kahler was best man and Dolly Heide was maid of honor.
The couple has resided in Dallas for 48 years, having previously lived in Gaulala, Calif.
Ken was an electrician, retiring in 1991 from Adolf's Electric in Dallas. Betty was a title specialist and office assistant, retiring in 1986 from Polk County.
The Kahlers enjoy participating in senior bowling leagues and are members of Dallas Senior Center.
Their family includes Bruce and Kris Kahler of Keizer, Bradley and Diane Kahler of Crescent Lake, and Dennis and Roxanna Buchholz of Dallas. They have seven grandchildren and seven great-grandchildren.
More like this story