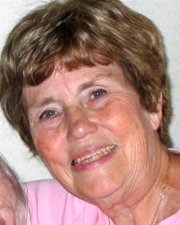 Summertime ... and the living is busy these days in MI Town, as families begin to make preparations for their sons and daughters for another year of school.
Whether your child is excited about his or her first day of kindergarten, or you are busy helping your off-to-college student load the car for their university experience, this is the time of year when emotions run high and just about any sentence spoken can be filled with both tears and laughter.
--
HALO (Help Achieving Lifelong Objectives) participants have been busy all summer thanks to a $562,000 Enterprise for Employment and Education grant from the federal government.
More than 70 teenagers and young adults have spent their summer working locally on sidewalk repairs, at the Independence Public Library, with the Oregon National Guard on ballpark construction, and on projects with MINET.
It's great to see our tax dollars spent on projects in MI Town and the nearby area. It's even better to see our local youths participating in positive learning experiences that will enhance their future career and job opportunities.
--
My absolutely favorite summer event of the year is here -- and it's even more spectacular than ever.
The Oregon State Fair begins Friday, Aug. 28, at the State Fairgrounds in Salem, where there is something truly wonderful for people of all ages. A day at the fair is quite unlike any other, with so many opportunities to have a great time.
I remember my first state fair when I was a 4-H kid, and how exciting it was to spend some of my berry and bean picking and chittum bark money (anybody remember what hard work that was?) on corn dogs, curly fries and elephant ears.
It's good to know that some traditions are just as enjoyable no matter how many years have passed. See you at the fair!
--
It's not too early to make plans for the upcoming Jensen Arctic Museum annual salmon bake, scheduled Sunday, Sept. 13, at Gentle House on the WOU campus. The event begins at 4:30 p.m. Cost is $22.50 per person. The museum open house will be from 2 to 4 p.m. For more information: 503-838-8147; e-mail to arctic@wou.edu.
--
During these wonderful late summer days, memories can be made that last a lifetime -- picnics in the park, swimming and hiking, building bonfires at the beach and sharing sticky (and sandy) s'mores with good friends.
Unfortunately, those memories can disappear in an instant and be replaced with sadness and grief when car crashes occur and lives are forever changed.
Please drive carefully and don't even think about drinking and driving.