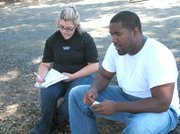 INDEPENDENCE -- Polk HALO (Helping Achieve Lifelong Objectives), a youth work organization, will receive some national attention next week.
HALO representatives will be at the National Association of Workforce Development conference in Chicago from Dec. 7-11, giving a presentation on a liberal arts component it created for its summer work initiative.
HALO arranged for almost 100 individuals ages 17-24 to get practical experience in a number of different industries this past summer, using nearly $563,000 in federal stimulus dollars.
A new program centered on writing and journalism. Six youth were responsible for producing a newsletter and video clips to document the work -- ranging from stream restoration to sidewalk building -- their peers had done around Polk County.
"We wanted to cater to kids who were interested in other things besides construction and health care," said Katherine Bartlett, HALO director. "I think a lot of workforce professionals forget about those careers."
Besides a weekly newsletter, the crew is assembling its documentations for an exhibit for the Heritage Museum, as a historical record of how the area benefited from a major federal initiative.
Bartlett said U.S. Department of Labor officials saw the information being produced as a more user-friendly means of performance reporting, one of the reasons HALO was invited to speak next week.
Katelynn Roberts, 20, was a HALO participant involved with the liberal arts program and will be one of the presenters.
"I'm nervous," said Roberts, who's working toward a degree at Eastern Oregon University. "But I'm excited, I really want people to hear about what happened."
An extension of funding for HALO is allowing Roberts to remain and train for another 16 weeks as a career coach. Two other participants are working for the city of Independence and the Monmouth-Independence Network.
Bartlett said about 70 percent of HALO youth are either back in school or are gainfully employed now. She also noted that the summer's initiative helped the organization net a $100,000 grant from the Department of Interior in early November. These funds will be used toward similar work experiences and to train five youths as crew leaders for future summer programs.