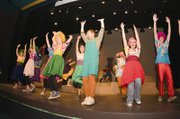 Local amateur radio group will gather
The Radio Operators Association of Dallas (ROADS) will meet Thursday, Dec. 10, at 6 p.m. for the club's annual Christmas dinner.
The gathering takes place at Tater's Cafe, 683 SE Jefferson St., Dallas. Members are welcome to bring their wives or significant others, and anyone interested in becoming involved in amateur radio is also welcome to attend.
ROADS is a general purpose amateur radio club for the Polk County area with members whose interests include DX (long distance), public service and emergency communications, as well as educational and social activities.
For more information: Bob, 503-910-1096; or e-mail to w7lou@msn.com.
Guardsmen to be honored Saturday
A yellow ribbon ceremony to honor Oregon National Guardsmen serving in the Middle East will take place Saturday, Dec. 12, beginning at 9 a.m. in downtown Dallas.
The event is being coordinated by youth from Polk County's 4-H Achievers and will begin in the parking lot of Ray's Home and Garden at 742 Main St.
After the "Pledge of Allegiance" and "National Anthem," yellow ribbons will be handed out and tied to trees lining Main Street.
Free coffee and doughnuts will be provided. Donations for health packages may be dropped off at Ray's until Dec. 12.
For more information: Zachary Odegard, 503-623-8991.
Falls City benefit dinner scheduled
The monthly Falls City "Feast for Funds" community fundraising dinner is scheduled Saturday, Dec. 12, from 5 to 8 p.m. at the Falls City Community Center, 320 N. Main St.
Cost is a suggested donation of $4, and proceeds benefit nonprofit groups in the Falls City area.
A bingo fundraiser for the student sports program will follow the meal.
For more information: Barbara Spencer, 503-787-4311.
Country folk dance slated for Saturday
A country folk dance will be held from 7 to 10 p.m. on Saturday, Dec. 12, at Guthrie Park Community Center, 4320 Kings Valley Highway, south of Dallas.
All ages are welcome for an evening of dancing to the live music of Cash & Company. Caller is Alan Ede and dances feature a variety of styles, including old-time squares, big circles, longway sets and waltzes. No experience is necessary; all dances are taught.
Admission is $5 per person and children 12 and under are free. A family rate of $15 for four or more people from the same immediate family is available.
For more information: Sally, 503-623-0809; guthriepark@gmail.com; www.guthriepark.org.
Church sets Sunday holiday carol sing
Dallas United Methodist Church is celebrating the holiday season by hosting a "Community Christmas Carol Sing" Sunday, Dec. 13, from 3 to 4:30 p.m.
Everyone is welcome to join in singing holiday carols and sharing of light refreshments. Musicians will include Ron Hamer on organ, Shelia Formhals on piano, Connie Biddinger on flute and John Nastari on violin.
The church is located at 565 SE LaCreole Drive, Dallas.
For more information: 503-623-2481.
Area saddle club to meet Monday
The Polk County Saddle-ites saddle club will meet Monday, Dec. 14, from 6 to 9 p.m. in the 4-H Building at the Polk County Fairgrounds in Rickreall.
The meeting, which is open to current members, perspective members and the general public, is for conducting club business, planning future event and reviewing past events.
For more information: Jerry Mentzer, 503-838-0745; e-mail to Mentz70@hotmail.com.
Master Gardener training upcoming
Registration is now being accepted for 2010 OSU Extension Service-Polk County Master Gardener training.
Classes begin Jan. 6 and meet every Wednesday from 9 a.m. to 4 p.m. through March 17 at the Polk County Fairgrounds in Rickreall.
Volunteers receive training in a variety of garden topics, including insect and disease control, home orchards and vegetable gardening. After the training, students contribute 60 hours of volunteer time to a variety of projects in Polk County.
Cost is $100, which includes books and materials. Deadline to register is Tuesday, Dec. 15.
For more information: Gail Miles, OSU-Polk County Extension Service, 503-623-8395.
Giving tree offered for center residents
A holiday giving tree to benefit residents of Evergreen Independence Health and Rehabilitation Center is located at Independence Public Library through Dec. 19.
Visitors can select a decoration, purchase the items noted on the decoration, and return the unwrapped gifts to the library's front desk.
Girl Scout Troop 242 will assist in wrapping the gifts.
For more information: Liane Moser, 503-838-2240; Cheran Christensen, 503-838-0001.
Gift wrapping event to benefit 'Relay'
"Team Perrydale" will be wrapping holiday gifts on Saturday, Dec. 19, to benefit the American Cancer Society through the 2010 Polk County Relay For Life.
Unwrapped gifts may be brought to the Dallas Senior Center, 955 SE Jefferson St., from 10 a.m. to 3 p.m. on Dec. 19.
A wide selection of holiday paper and ribbon will be available to choose from. All gifts will be tagged to ensure ownership and prevent loss. Cost is by donation of choice.
For more information: Laura Peterson, 503-831-4706.
Holiday activities planned by church
Polk County area residents are welcome to celebrate Christmas Dec. 16-20 at Faith Evangelical Free Church, 2290 E. Ellendale Ave., in Dallas.
The annual live nativity will be staged Dec. 16-18 from 6:30 to 8:30 p.m. At 7 p.m. and 8 p.m., "The Traveler," a contemporary monologue, will be performed by actor Steve Wilent.
The celebration week will culminate with a musical retelling of "A Christmas Tale" at 7 p.m. on Dec. 19 and 11 a.m. on Dec. 20 in the church sanctuary.
Requested admission to all events is the donation of a nonperishable food item.
For more information: 503-623-8034.
Donations to aid families of ONG
The Oregon National Guard is accepting donations of gift cards for its "Cards for Guards" holiday program.
Many Oregon National Guard soldiers are deployed overseas, leaving their families to sacrifice financially. By purchasing a gift card in any dollar amount to a grocery, department or home improvement store, contributors are helping put gifts under the Christmas tree or assisting families with food or other needed items.
The gift cards are distributed by the Army Chaplains and Family Program to soldiers' families throughout the state.
Gift cards can be sent to: Gen. Mike Caldwell, Oregon National Guard, P.O. Box 14350, Salem, OR 97309.