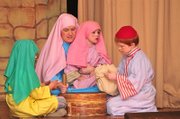 RICKREALL -- If it's tradition you are seeking this holiday season, look no further than the annual Rickreall Christmas Pageant.
The nine-scene pageant has run virtually unchanged since first staged at the former Rickreall school in 1938. Actors perform on the same stage with the same set (for the most part) and in a few cases, in the same costumes as the original players did 68 pageants ago.
The 69th pageant begins Thursday, Dec. 10, and runs through Saturday, Dec. 12. Each performance starts at 8 p.m. and the doors open at the former school located off Highway 99W in Rickreall at 7 p.m. Admission is free, but tickets are required.
Actor Chad Woods, whose first time on stage was 20 years ago, said he and other cast members have strived to keep the pageant the same from beginning to end.
"We've been a little resistant to some of the changes," he said. "It's just been a tradition to carry it on how it originally started."
Don Hiscock, another actor who has been in the pageant for 25 years, said the script, set and venue aren't the only traditions set in stone.
His involvement goes back even further as part of the Rickreall Fire Department, which has had its firefighters park cars for the performances for as long as he can remember.
Directors and actors have changed over the years, but many of the current cast members are relatives of those who starred in the program decades ago.
"There are third-generation people in it now," Hiscock said. "It won't be too long before there is a fourth generation."
Current pageant director Mary McCarron, who has been running the show for five years, said she hasn't wanted to alter the script. She's shortened a few scenes, but she said her biggest accomplishment is creating a Web site for the show. That has provided another element of publicity and made reserving tickets easier.
For those who are making the pageant part of their holiday activities for the first time this year, the former school won't be hard to find. McCarron said the fire department posts lights over the school each performance evening.
"It's like we have our own little star in the sky," she said.
Will-call tickets may be requested by calling 503-623-0958, sending an e-mail to info@RickreallChristmasPageant.com, or visiting www.RickreallChristmasPageant.com