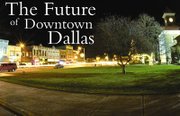 EDITOR'S NOTE: The following is the first in a two-part series examining the current business climate of downtown Dallas.
DALLAS -- People use the word "potential" often when they talk about downtown Dallas.
The area has space available, city programs for business facade improvements and planned sidewalk upgrades. In addition, the city and Dallas Area Chamber of Commerce have put revitalizing the district among their top priorities.
While good to have, "potential" in downtown's case doesn't include an abundance of thriving businesses and bustling streets full of customers eager to spend money.
There are successful gems downtown, both old and new
, but they are balanced with vacancies and short-lived attempts at new businesses ventures.
City and business leaders are quick to point out that the current economy isn't helping and that the downtown occupancy level and business variety is a vast improvement over the recent past.
They also admit the region has a long way to go before it can be considered a success.
--
What is needed downtown?
Dallas Area Chamber of Commerce Executive Director Chelsea Pope said there are multiple factors contributing to the lifeless downtown. The economy is certainly the first thing that comes to mind.
"I don't think it's that Dallas is doing anything wrong," she said. "I think it's bad timing."
That isn't to say Dallas can depend on a revival of downtown happening when the local and national economy turns. Pope said the region has to know what it wants its downtown to offer.
The chamber and the city have been evaluating what is downtown now and what is still needed.
"I don't think we know what that is yet," she said.
One aspect that is certain, the mix of businesses needs to do more than just bring people downtown.
"You have to give them something to do," Dallas City Manager Jerry Wyatt said.
Wyatt has fielded more than one complaint pointing out that, especially on the weekends, there are few stores open downtown.
Jeff Mexico, the owner of the Fox Theatre and Courtyard Coffeehouse and Deli on Mill Street, said the area is missing something: retail.
"There are pretty buildings, but not a lot of actual shopping type stores," he said.
Wyatt agrees.
He said the types of businesses that succeed in a downtown area, generally speaking, are those that generate foot traffic such as bakeries, coffee shops and delis. Ideally, those businesses would compliment those already established.
Then again, it's hard to pull in those types of business, or any for that matter, without customers to frequent them.
That puts the chamber, which is responsible for a good portion of promotion, in a conundrum: What do you bring in first, more businesses or more customers?
"You almost have to make that happen at the same time," Pope said.
"It's hard to say bring your umbrella and walk six blocks for the three stores that are open," she added.
The answer to that what-should-happen-first question might be more combined activities, such as last weekend's Winterfest, where holiday-themed events downtown were paired with specials and sales at area establishments.
Mexico said businesses need to take advantage of those events to show off their best. If people find out about a new business or remodeled and revamped establishment, they will return.
"The more events you do, the more people will come down here that haven't been here in awhile," he said.
--
Atmosphere and support
An appealing environment and a strong support system can be key to keeping an area healthy.
Pope said a possible factor in the high turnover rate of business downtown is that owners weren't taking full advantage of available help with business plans. She said the chamber offers assistance to businesses that are planning to open or have opened and are struggling.
Mexico said he and his wife, Robin, made multi-year plans when they took over and refurbished the Fox Theatre, the coffeehouse and the Motor-Vu Drive-In. The coffee shop and drive-in have made significant improvement, but the Fox is still struggling, he said.
Pope said it's just those situations when businesses can turn to the chamber.
"That can be a really difficult thing to do," she said. "But that's what we are here for."
While the chamber can provide business plan help, the city and the urban renewal district can contribute to an inviting atmosphere for business owners and customers alike.
Brian Dalton, Dallas City Council president and Urban Renewal Advisory Committee chairman, said the urban renewal agency is planning a second phase of its Streetscape program. The demonstration portion of the program, which added brick and benches to the sidewalk, was installed on Mill Street earlier this year.
Wyatt said the example project was a success.
"Property owners were engaged," he said. "It's been well received."
Other incentives include business facade improvement grants and loans, as well as help with painting.
The idea is to make the atmosphere comfortable for shoppers, Dalton said. A sense of continuity and ease of "window shopping" is the goal. The city also changed its development code to foster that. Instead of having blanket codes for commercial areas, new rules provide for street-facing stores and pedestrian friendly development in the city's core.
"We made an effort to cash in on the unique features of downtown," he said.
Wyatt said with confidence that Dallas' business incentive programs are among the best in the state.
Pope, too, said the chamber, which has an office near the corner of Court and Main streets, is confident the business atmosphere will turn around downtown.
"I and the chamber board feel downtown will regenerate or we wouldn't have relocated here," Pope said. "I'm excited about the opportunity we have."
However, city leaders acknowledge there is only so much a city and a chamber can do to revive a district.
The rest is up to the entrepreneurs themselves.
--
Next week: Part II will explore how business owners can help address downtown issues and what citizens and shoppers want to see developed in the city center.