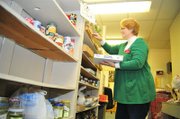 POLK COUNTY -- The demand on Polk County's food pantries has grown significantly in 2009 from the previous year. It only figures to ramp up with Christmas nearly upon us.
While many local organizations say they have enough supplies to make it through the remainder of the year, cash, food and clothing contributions are sorely needed.
"Our community has been very generous," said Pat Jaffer, director of the Ella Curran Food Bank in Independence, "but we'll take just about everything we can get right now."
Jaffer said she's seeing many new faces visiting Ella Curran for food. And her stock of warm clothes and blankets is dwindling, primarily because of last week's cold snap, she added.
Marion-Polk Food Share supplies food to several pantries in the county, most of which have seen jumps in the number of food boxes handed out, said Phil McCorkle, the agency's vice president of development.
Grand Ronde Community Center and the Seventh-Day Adventist Community Center in Falls City have seen 29 percent and 18 percent increases, respectively, in the amount of food given out between July 1 and Nov. 30 of this year compared to 2008, McCorkle said.
"People are unemployed or underemployed," he said. "These are times when they can't provide food for their families."
Dallas Emergency Food Corporation and Ella Curran Food Bank have seen 5 percent increases in food box distribution.
McCorkle said his organization spent more than double its own funds for food purchases this fiscal year; corporate food industry donations -- the bulk of the food share's stock -- have fallen by about 11 percent.
"The reality is we've had 250,000 pounds less food to give out," he said.
Edith Woodruff, the director of the Seventh-day Adventist Community Center, said visits to the food pantry have been higher recently, but it would be even more so if other community organizations weren't providing meals and food assistance for the holidays.
Betty Krebs-Brennan, the site manager at the Dallas Food Bank, said local donations both in food and money have been generous in the past month.
"Our community goes above and beyond," she said.
Still, Krebs-Brennan said the food bank often runs low on non-food items such as laundry soap, dish soap, toilet tissue and other household items. Pet food is often overlooked as well.
Last week Krebs-Brennan didn't see as many clients as usual, but suspected that chilly temperatures kept people at home.
While the cold weather kept clients away from the food banks last week, McCorkle doesn't see that being the pattern through the rest of the holiday season.
"We've seen a busy October and November, and that's continuing into December," McCorkle said.
BREAKOUT BOX INFO:
All of the following food pantries are accepting cash and food donations. Food most in demand include soups, cereals, packaged pastas and other nonperishable goods. Some are also taking winter clothing and blankets to distribute.
Dallas Emergency Food Corporation
322 Main St.
503-623-3578
Dallas Seventh-Day Adventist Community Center
589 SW Birch St.
503-623-5872
Falls City Seventh-Day Adventist Community Center
205 N. Main Street, Falls City
503-787-3907 or 787-3814
Ella Curran Food Bank
840 N. Main Street, Independence
503-838-1276
Grand Ronde Community Center
8725 Grand Ronde Road, Grand Ronde
503-879-5731
Helping Hands Food Bank
959 W. Church St., Monmouth
503-838-1145