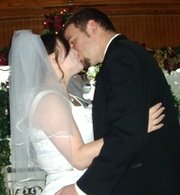 Wentz-Trine
Megan Ren' Wentz of Dallas and Andrew Scott Trine of Dallas were married Dec. 12 aboard the Willamette Sternwheeler on the Willamette River.
The bride is the daughter of Joan Cribbs of Baker City. The groom is the son of Craig and Caroline Trine of Dallas.
The ship's captain officiated the ceremony.
Maid of honor was Lisa Wachter. Bridesmaid was Barbara Trine. Flower girls were Hailea Trine and Ashaley Trine.
Best man was Bradley Hiebert. Groomsman was Joshua Quiroz. Ring bearer was Damian De la Santos.
Megan is a 2006 graduate of Baker High School. Her plans include a March 2010 entrance into Valley Medical College's phlebotomy program.
Andrew, a 2007 graduate of Morrison Alternative School in Dallas, is a heavy equipment operator at Meisel Rock Product in Sherwood.
The newlyweds are planning honeymoon to Disneyland in the summer of 2010. They make their home in Dallas.