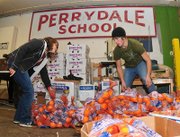 PERRYDALE -- Perrydale FFA's Food For All drive is not about the number of pounds collected.
The amount of food FFA members and their partners at other Polk and Yamhill county schools gathered is incredible -- some 211,000 pounds this year -- but to those involved, it's more about working to meet needs than to break records.
"Someone always needs help, so why not give a little more?" said Ellie Carmona, one of the chapter's vice presidents.
But obliterating the previous record of 160,000 pounds and well surpassing the goal of 170,000 just adds to the fun of this year's project. Diana Lloyd-Jones, another of the club's vice presidents, said the chapter members were surprised to top last year's total.
"We thought (160,000 pounds) was going to be our limit," she said.
So far, Food For All hasn't found a limit.
The idea that this year's total equals more than a pound of food for each resident of Salem amazed Perrydale FFA advisor Kirk Hutchinson.
"It's absolutely mind boggling that these schools could collect that amount of produce and that many families could be helped," he said.
The food drive has come a long way in a short amount of time.
It started in 1998 and brought in 2,500 pounds of food and clothing that year. Since then, the school has collected and delivered 844,500 pounds of food.
Now, all Perrydale School District students are involved in some way. Over the last three weeks, Perrydale's shop has been busier than Santa's workshop, with entire classes and individual students taking time to help package produce donated from area farms.
Brenna Heide, the chapter's president, said the FFA members don't have to beg their classmates to help out. They will just show up. At times, 90 people were crammed into the shop, even during the chilly temperatures earlier this month.
Sophomore Kaitlyn Hallock was among the dedicated. Hallock doesn't officially belong to the FFA chapter, but she volunteers for all of its projects.
"I have a problem saying 'no,'" she said. "This is really fun. I love doing it."
The project grew so much that in 2006, Perrydale FFA had to enlist the help of other schools. This year, Willamina, Amity, Yamhill-Carlton and Dayton high schools picked up and packaged food.
Deliveries reach from close to home in the Mid-Willamette Valley to Oregon's South Coast in the Coos Bay-North Bend area. Students load a truck with pallets and make an all-day trip to the drop-off sire in Coos Bay, where the local Knights of Columbus runs its holiday food drive.
Perrydale's produce contributes to food boxes for 800 families in Coos County, said Mike Main, the Grand Knight of the Coos Bay/North Bend Knights of Columbus, Council 12.
The Knights of Columbus' Christmas Basket Program has been a tradition in the area for the last 20 years. Perrydale has been part of it for the last five or six years.
"I think it's really amazing that a little school like that reaches out so far," Main said. "Without them, our program would be about half of what it is."
A bit closer to home, Perrydale makes a Dec. 23 delivery to LaCreole Middle School for Dallas Christmas Cheer. The delivery consists of produce bags ready for stowing into boxes providing food for 200 families in the Dallas area (see related story, Page 2A).
"They are a blessing to us because without that we have to spend another $2,000 on produce," Christmas Cheer co-coordinator Warren Lamb said. "That is the other part of a balanced meal."
Hutchinson said the service project illustrates the need in Polk County and across the state. Along with that comes the discovery of the importance of serving others and that anyone could find themselves in need.
"This project shows them (the students) a community that is so much larger than their own," Hutchinson said. "No one knows when they are going to be on the other side of the fence."