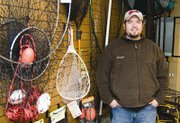 DALLAS -- When American Glove owners Jim Garus and his son, Micky, moved to an expanded business location on Bovard Road in Dallas, a small room in the warehouse was left unfilled.
A year and a half later, the space they weren't sure what to do with has a purpose. It's called American Outdoors.
The new venture is a high-end hunting and fishing equipment outlet, which opened on Dec. 2.
Micky Garus said he was surprised at the public's reception to the new store.
"It's been pretty exciting," he said. "I expected us to be pretty slow, but it's been quite the opposite."
Micky Garus hurried to open the store for the holiday shopping season, so has yet to receive his entire product line.
"We have a lot of big stuff coming in after the first of the year," he said.
Arriving soon will be hunting rifles, hand guns and reloading equipment.
Not wanting to compete with the retail outlets that buy merchandise from American Glove Co., the Garuses' safety equipment and glove manufacturing business, Garus stocks the store with products he said can't be found elsewhere in Polk County.
"Our goal was to offer a broad selection of high-end equipment," he said. "My goal is to save people a trip to Salem."
It took about five months of research and asking local hunting and fishing enthusiasts what he needed to supply to make the store unique.
His plan is to feature products by local manufactures, providing special order service as well as fire arm and fishing rod and reel repair. The store eventually will host classes on topics such as fly-tying, carrying concealed weapons and hunter safety. It is also in line for state of Oregon approval to issue hunting and fishing licenses.
"We are going to try to do something a couple times a month," he said.
Pricewise, Garus said American Outdoors is competitive with larger sports outlets.
Garus, a 30-year resident of the Dallas area, said the business will seek to be second-to-none in one area.
"On customer service, we are going to try to beat everybody," he said.
American Outdoors is located inside American Glove at 468 NE Bovard Road in Dallas. For more information, call 503-623-7056.