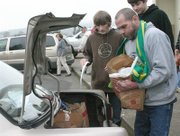 Monmouth church recycling trees
Heart to Heart Church will offer Christmas tree recycling from 10 a.m. to 4 p.m. today (Wednesday, Dec. 30), Saturday, Jan. 2, and Saturday, Jan. 9, at 191 Monmouth Ave. N. in Monmouth.
Donations benefit the church's Sunday school camp fund. Suggested donations per tree is $4 for those dropped off and $5 for those picked up.
For more information: 503-838-4742; 503-930-5602; or 503-837-0541.
MVCA students picking up trees
Mid-Valley Christian Academy high school students will pick up residential Christmas trees for recycling on Saturday, Jan. 2, and Saturday, Jan. 9.
Minimum donation of $5 per tree is requested.
Funds will be used for the students' upcoming American heritage tour to Washington, D.C.
To make arrangements for pickup or for more information: Monmouth-Independence area, 503-838-6142; Dallas area, 503-851-8396.
Next 'Total Fitness' class starts Monday
A new eight-week session of the "Total Fitness" community exercise class begins Monday, Jan. 4, in Dallas.
Instruction is provided in freestyle cardiovascular, strength training, and stretch and relaxation. All equipment is provided. Participants are encouraged to provide their own exercise mat and wear appropriate athletic attire.
The class, instructed by Fay Lanning, is for adults 18 and older. It meets from 6:30 to 7:45 p.m. on Mondays, Wednesdays and Thursdays at the Academy Building gymnasium, 182 SW Academy St., Dallas. Cost is $45.
For more information: 503-881-9235.
Life story writing workshop continues
The next session of Betty Plude's monthly life story writing workshop meets on Monday, Jan. 4, from 12:45 to 3 p.m. at Independence Public Library, 175 Monmouth St.
New attendees are welcome to the workshop, which provides writing encouragement and information on how to capture those lifetime memories in words.
For more information: Betty Plude, 503-838-4039; Independence Public Library, 503-838-1811.
ICAN belly dancing plans new session
The Dallas Intercommunity Activity Network has scheduled another four-week session of its belly dancing program beginning Tuesday, Jan. 5.
Classes meet for four consecutive Tuesdays from 6:30 to 8 p.m. at the Dallas Senior Center, 955 SE Jefferson St.
The program emphasizes fun, with relaxation, flexibility, balance and rhythm.
Cost is $35 for the four weeks.
For more information: Dallas ICAN, 503-623-5055; e-mail to michelec@dallasican.com.
Community karate class begins Jan. 6
Dallas Intercommunity Activity Network is bringing back its popular karate program to the Morrison Gym beginning on Wednesday, Jan. 6.
Classes meet from 6:30 to 7:30 p.m. Instructor Kristy Mitchell leads this no-contact marital arts program, which emphasizes self respect, agility and discipline.
Cost for the four weeks is $30 per student or $40 for families with two or more participants. Minimum age is 7.
To register or for more information: 503-623-5055; www.dallasican.org.
KVAA needs leader for farmers market
The Kings Valley Area Association is seeking a manager to oversee operation of the seasonal Kings Valley Farmers Market.
The market typically is open on Sunday afternoons from early June through early October at the Kings Valley Community Center.
If a new manager is not found, the Kings Valley Farmers Market is in jeopardy of closing.
For more information: Cheryl O'Hara, 541-929-5910.
Area tree recycling scheduled Jan. 9
A Christmas tree recycling event to benefit Sable House of Dallas is scheduled Saturday, Jan. 9, from 9 a.m. to 2 p.m. at Allied Waste, 1030 W. Ellendale Ave., Dallas.
Suggested donation is $5 for each tree.
To schedule a tree pickup or for more information: 503-623-6703.
Meals for seniors available in area
NorthWest Senior & Disability Services is offering weekday meals for seniors 60 and older in Dallas and Monmouth throughout January.
Meals are served Monday through Friday at 11:30 a.m. in Dallas at LaCreole Manor, 204 SW Walnut Ave., and in Monmouth at Praise Assembly Church, 189 S. Monmouth Ave.
A donation of $2.75 is suggested for the meals, and advanced reservations are required. Delivered meals are available for home-bound seniors.
For more information: 503-623-6232 (Dallas); 503-838-2084 (Monmouth).