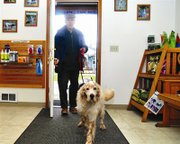 POLK COUNTY -- "You're going to be a good guy, aren't you Pippen? Harry?" said Robert Willner, patting his two English setters on the head.
Willner walks out of The Shaggy Dog boarding facility near Dallas to his car, and returns with three more pooches of the same breed. His wife, Phyllis, follows with a pet carrier containing their cat, Prudence, "the lady of the house."
The Willners would be heading to Reno, Nevada, later that day to spend Christmas with their daughter. As such, the furry family members would be taking their own vacation for a week.
Phyllis Willner goes over last minute directions with facility owner Shelly Richardson, regarding food and medication; most of the Willners' dogs are white and gray around the muzzle.
As his animals are led to their quarters, Robert Willner calls out: "Goodbye, have a nice time."
Besides the Willner's pets, The Shaggy Dog would take in another eight or so tenants this mid-week day, putting it at near capacity. It's a welcome problem, Richardson said.
"During the Christmas season, we have at least two weeks when we're full," she said. "Boardings this time of the year are really important for us."
Pets need a place to stay when master is away. And the amount of travel that takes place between Thanksgiving and New Year's Day translates to a big bump in multi-day bookings for kennels and other boarding facilities.
Donnah and Russ Blalock, who run Oak Grove Kennel just south of Monmouth, said slots for Christmas week were fully reserved at the beginning of December. Donnah estimates they're currently caring for between 60 and 70 dogs and cats a day.
"That's our money time ... but it's a lot of work," Donnah Blalock said. "Our day starts at 5 a.m. every morning in the kennel and I make last rounds at 9 or 9:30 at night."
Dogs are let out early for feedings, while kennels and food dishes are washed. Food, dog treats, kitty litter, and shampoo for grooming must be be fully stocked.
"We do about three loads of laundry a day for the dogs," she said.
Richardson said individual attention for pets becomes especially tricky when her facility -- which offers a "doggy daycare" -- is full. Many dogs and cats come with their own food and require medication certain times of the day.
Then there's the separation anxiety. Some dogs will bolt for their departing owners, and require a day of talking to and play to calm down, Richardson said.
"And sometimes its not the dog," she said. "People have never left their dog in a kennel, they're worried, there's tears ... and when they get teary eyed, then I get teary eyed."
Not all pet sitting during travel season is taking place at kennels. Outside of her job as a surgical technician at Dallas Animal Clinic, Laura Shaw is hired to do visits to people's homes to care for farm animals and house pets when owners are away.
"Every client is a little different," Shaw said. "But they still want the animal to feel at home, so they want me to come and do their routines, like get up early to walk the dog."
Richardson said she'll sometimes get a "unique" request for boarded pets -- once a family left a cardboard cutout with their image to be placed in their dog's kennel.
Blalock said she's had clients leave gifts for their pets to be delivered to them on Christmas day.
"They come wrapped," Blalock said. "We just let them tear it all apart."
The Willners have lodged their pets at The Shaggy Dog a few times a year since the mid-1990s. And with one or more English setters at any given time -- "usually more" -- the couple has come to depend on it for vacations.
Because they've been boarded before, the dogs seldom show anxiety being away from their owners, Robert Willner said.
"We're delighted to have found a good place where they take good care of them," Robert Willner said.
"The dogs would rather be at home," he said. "But they like it here."