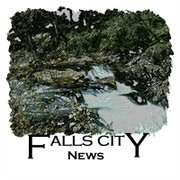 FALLS CITY -- Organizing the food and donations for the veterans Christmas party in Falls City hosted by Serving Our Veterans at Home (SOVAH) took just a couple of weeks.
Making the connections with veterans in the area that made the last-minute event a success took years for the two-man SOVAH team of Wayne Crowder and Bill Adams.
Salem-based SOVAH takes outreach to where veterans live.
"Look at how many happy little kids are running around," said Jeff Rieger, a veteran living in the Falls City area.
Rieger was one of the first people SOVAH helped in Falls City. He served in the military in the early 1980s and was deployed to Grenada.
Crowder said the Dallas Resource Center, Grace Baptist Church and the Oregon Department of Veterans' Affairs all were involved in putting the outreach party together. Additionally John Davis, a recruiter with the U.S. Census Bureau, was there offering information on jobs for the 2010 Census.
Crowder said Falls City has served as a productive and supportive training ground for SOVAH, allowing it to take efforts to other communities in the mid-Willamette Valley.
"We found out how to make connections and how to build their (veterans) trust," he said.
Leah Rickert, a veterans' service officer with the Oregon VA, was available for appointments at the party. She said a portion of vets who leave military service are sick of working for and with the government and forgo applying for benefits to avoid more government contact. Making an appointment with Rickert at a veterans' gathering outside a state or federal building is more comfortable for bureaucracy-shy vets, she said.
"Everyone at the (state's VA department) is a veteran," she said. "We know what it is like and we are here to fight for veterans."
Rieger said the reason the party was an attendance success -- more than 35 veterans and their families were fed and picked up clothing and toys at the event -- was because Crowder and Adams spent plenty of time in the area and were persistent with vets they made contact with. He said they also follow through on their promises.
"I didn't have my DD-214 (discharge documents) for years," Rieger said. "These guys got it for me in three weeks."
From there, SOVAH continued to work with him to improve his life. Rieger still is homeless, but is confident his situation will change for the better.
"It's starting to help," he said. "It's giving me job opportunities and a chance to advance myself."