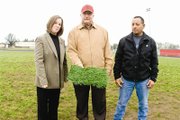 INDEPENDENCE -- An ad-hoc group of community members is seeking funds to install artificial turf on the still-to-be built Central High School stadium.
Joe Penna of Monmouth and about 20 other Central High alumni, Panther Club representatives, parents and residents have opined that turf would give the high school a more versatile and durable facility that could accommodate several sports and nonathletic events, as well.
"Instead of being used for a handful of football competitions a year, it would allow us to use (the facility)
12 months out of the year," Penna said.
The group believes it will need about $600,000. Fundraising events and grant writing are potential sources to help pay for the project.
The contingent has also asked Central School District to examine the legality of using part of the $1.6 million in high school reconstruction bond dollars earmarked for an athletic field development on 16th Street.
Central School Board recently passed a resolution supporting the group's efforts, though stopped short of a request to contribute funds toward the project.
The district researched artificial turf during the early stages of the reconstruction planning, but left it out of the bond language in 2008 because of the expense; officials had received an estimate of about $1.2 million for such a project.
Jon Carey, a Monmouth resident and athletic director of Western Oregon University, was part of that process.
"Initially, I wasn't in favor of it because of the cost and concerns for maintenance," he said. "But I've changed my mind on it ... it would allow multiple uses for the space."
"We talked to a football coach at Lake Oswego ... he said they schedule over the course of a year (hundreds) of events on their (artificial) turf field," he continued. "It's increasingly becoming the norm."
Penna said three turf contractors recently have given estimates of $600,000 to install a polypropylene monofilament surface. Increased competition among turf businesses and reduced labor and material costs because of the recession have dropped the cost, Penna said.
Savings on field maintenance, not including watering and lining, could total $10,000 to $15,000 annually, Penna said. The playing surface could also be rented.
An artificial turf field in the stadium might negate the need for proposed natural grass practice fields at 16th Street, Penna said, adding "it's a better use of resources."
Penna said the group will start a community education campaign in early 2010, and might use the Panther Club as an avenue for fundraising events and grant writing. The group also wants the district to provide some level of matching funds.
Mike Maloney, district bond project manager, noted that while artificial turf could save money, Central is only spending a combined $25,000 for field maintenance, not including mowing, at all its schools.
Maloney also said a board decision is needed on the turf issue by February to avoid affecting existing construction schedules.
"If the decision is for the artificial turf option, the earliest it could be installed is summer of 2011," he said.
For more information on the fundraising effort: Joe Penna, 503-838-4996.