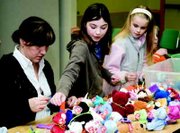 MONMOUTH -- During stints over the past few years working at the Hillcrest Youth Correctional Facility and a teen resource center in Salem, Melissa Lalack said she heard countless stories from teens about being homeless.
"They'd tell me about living under a bridge for a while, then a couch, then a car," said Lalack, a Monmouth resident and instructor in the criminal justice program at Western Oregon University. "One girl told me her mom and dad were homeless and that it seemed like there was no way of getting out of it."
When Lalack and another Western student were working last year at Hillcrst, they started handing out backpacks filled with clothing and supplies to kids upon release, providing a modest boost as they restart their lives.
Now, Lalack and other volunteers are conducting a similar effort called "Step Up" for homeless youth in Polk County. For the next few weeks, they'll fill backpacks with clothes, hygiene products and other essentials for 77 youths from ages 10-18 in cities in Polk County.
The group assembled about 20 backpacks at the Dallas Senior Center on Jan. 29. They'll head to Falls City next week and Monmouth and Independence afterward. School districts will distribute the backpacks to protect the privacy of the recipients, Lalack said.
"It's those stories that made me want to help," she said. "If we can help even one person out of 25, then we've done our job."
Lalack said she borrowed the idea from a similar program run by WOU students two years ago for female Marion County inmates called "Project Backpack."
Last November, she and Jesus Gutierrez, a youth leader for Light of the Valley Christian Fellowship in Salem, approached the WOU Foundation about including the idea under its operation to ensure nonprofit status.
Marion and Polk county's collective homeless population totals more than 2,600, according to a count and survey conducted last year by the Mid-Willamette Valley Community Action Agency. A similar count was conducted late last month.
"Step Up" will begin in Polk County's incorporated cities, excluding West Salem. Lalack and Gutierrez worked directly with local school district officials to identify homeless children in need of assistance.
There were 24 in Dallas, 14 in Falls City, and 39 in Monmouth and Independence, Lalack said.
Most wouldn't believe that such small communities would even possess a homeless youth problem, Gutierrez said.
But "if (homelessness) is here," he added, "then it's everywhere."
The hope is that the program can run quarterly, and will eventually gain enough support and financial aid to expand into Marion County, Lalack said.
Volunteers -- from Western students to community members -- have collected $3,000 from service organizations, businesses and residents to purchase backpacks, socks, sweatshirts, toothpaste and toothbrushes, and other supplies for recipients in Dallas and Falls City.
Also included are folders with information about services available to them.
Denise McCormick of Dallas and her 9-year-old daughter, Mikaela Bruer, heard about "Step Up" through a local business and decided to take part.
Bruer was so touched, she convinced her father to donate $300 toward the effort, McCormick said.
"It makes me feel sad there are that many people and kids who are homeless," Bruer said last week, as she and other young volunteers wrote inspirational messages on stuffed animals being added to the backpacks.
"Step Up" is seeking donations to purchase backpacks and supplies or actual items that can be used. Checks may be sent to the WOU Foundation, in care of Step Up, 345 N. Monmouth Ave., Monmouth, OR 97361. Item donations can be dropped off at the Dallas Area Chamber of Commerce.
For more information: 503-606-0486; lalackm@wou.edu.