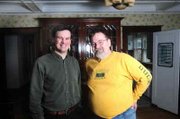 INDEPENDENCE -- After four years of planning, the Independence business incubator is expected to be up and running next month, officials said.
Independence secured a facility to house the program, the former Public Affairs Research Consultants (PARC) site, at 414 S. Main St.
Interviews for the incubator business manager position took place last week and should be filled by early March, said Community Development Technician Shawn Irvine.
The incubator's premise is to give new businesses an opportunity to grow and succeed by allowing them to operate with an advantage of reduced overhead -- such as below market-value rent and a shared receptionist -- and business consulting or classes during the first few years of existence.
The owner "graduates" from the program when his or her firm is on solid ground. And with its base established in the community, the notion is owners may choose to settle in Independence, Irvine said.
Independence announced the initiative in 2005. Other town projects have slowed progress, as has finding a suitable facility, Irvine said.
The latter "was a big stumbling point," Irvine said. "A lot of incubators use very large buildings ... and nothing penciled out to build here."
The renewed push began about six months ago, as "the economy started to get truly bad," he continued. "We have to make sure our local economy is sound and the incubator is a solid way to do that and push ahead."
City staff sought nonprofit corporation status for the incubator and a board of directors was selected. When the old PARC site -- a historic home -- became available in October, Independence leased it with an option to buy in a few years.
The building's size and layout will accommodate about half a dozen offices. The incubator concept was originally geared toward technology-oriented businesses, but will now be keeping criteria open.
"That's one of the things that the business manager will be focused on: What kind of businesses can we attract?" Irvine said.
Irvine and City Manager Greg Ellis have been overseeing the incubator, though leadership will be passed on to the director once he or she is hired.
That staff member -- a 20-hour position -- will create a management plan, figure out how to market the program, and how to integrate it into the community. Nine people applied for the job, four were interviewed.
There was tentative talk of having Polk HALO, a youth career exploration program, become the anchor tenant of the building, but that organization moved a few months ago to another locale in Independence.
"We will still be looking to them to provide support for the incubator, maybe having (the teens) act as staff support or receptionists," Irvine said.
Revenue will come from tenant rent, while the city will seek grants to purchase operating capital. Irvine said the incubator will also feature "thin clients" -- computers with off-site hard drives -- that could be made available for traveling corporate workers for a monthly fee.
Jerry Hoffman, an incubator board member, said he knows of a few other communities in Oregon that are doing similar incubator projects.
The Confederated Tribes of the Umatilla Indian Reservation, for example, is starting one that caters to retail, small manufacturing and intellectual properties.
For Independence, "the impact will be that the city is open for business," Hoffman said. "We're confident that there are people out there who believe they have a great idea and want to live out that dream."