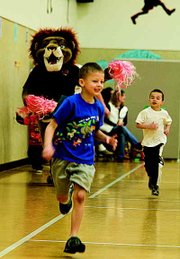 Event focuses
on heart health
West Valley Hospital is hosting the "Go Red for Women" heart event today (Wednesday, Feb. 25) from 9 a.m. to 1 p.m. in the hospital conference room, 525 SE Washington St., Dallas.
Attendees can learn about heart disease by browsing displays, getting blood pressure checked and receiving a free cholesterol screening (fasting recommended).
Nutritious snacks will be provided. The event is free and all ages are welcome. For more information: 503-623-8301.
Open house set
by city of Dallas
The city of Dallas is hosting an open house for citizens to learn more about its services and future projects.
The open house will be held Thursday, Feb. 26, from 4 to 6 p.m. at the Dallas Civic Center, 945 SE Jefferson St.
For more information: 503-623-2338.
Holocaust topic
of presentation
Holocaust survivor Alter Wiener will speak about his experiences in concentration camps as part of "Night of Remembrance" at Talmadge Middle School on Thursday, Feb. 26.
The event begins at 6 p.m. at the school, 510 16th St. in Independence. It is open to the public.
For more information: Talmadge Middle School, 503-606-2252.
Whitworth seeks
items for auction
Donations of items are being solicited for the 12th annual Whitworth Elementary School Spaghetti Feed and Silent Auction, scheduled Friday, March 6, beginning at 5 p.m.
Auction items may include classroom projects, gift certificates, baked goods and local business items.
For more information: 503-623-8351.
Polk Republicans
potluck is Feb. 26
Polk County Republicans are hosting a potluck Thursday, Feb. 26, at 6 p.m. at the Rickreall Grange.
There will be a silent auction, along with the opportunity to meet elected officials representing Polk County who have been invited to the gathering.
Those planning to attend are asked to bring whatever they feel is appropriate for a potluck. Table service will be provided, as well as beverages. Any interested Republicans are welcome to attend.
For more information: Gene Henshaw, wuzzy2424@msn.com; Helga Thompson, 503-623-2764.
Bunco fundraiser
set for Friday
Polk County Association of Realtors is hosting a bunco night fundraiser to benefit the American Cancer Society's Relay For Life on Friday, Feb. 27.
The event begins at 6:30 p.m. at Eola Hills Wine Cellars, 501 S. Pacific Highway (99W) in Rickreall. Buy-in is $20 per player.
For more information or to register for the event, send an e-mail to Korrina.Osborn@ticortitle.com.
Perrydale student
honored for work
Katy Hilker of Dallas was recently honored with the President's Volunteer Service Award, which recognizes significant amounts of time donated in her community.
Hilker, 18, participated in the Spirit of Community program this year as a representative of Perrydale High School, where she is a student. She volunteered hours of community service, headed leadership projects, and was involved in student government and FFA.
The award was presented by the Prudential Spirit of Community Awards and the National Association of Secondary Principals on behalf of the President's Council on Service and Civic Participation.
Benefit auction
planned by church
An oral and silent auction and concert set for Friday, Feb. 27, at Green Villa Barn will benefit construction of Monmouth Christian Church's children's wing.
The event begins at 5 p.m. with a silent auction. A soup, salad and bread dinner is planned at 5:30 p.m., followed at 6 p.m. by a concert by country-western singer Sheba Dawn and at 7 p.m. by an oral auction.
Cost is $5 per person for those ages 14 and older.
Green Villa Barn is located at 3215 Independence Highway. For more information: 503-838-1145.
Rummage sale
to aid hospital
A fundraising rummage sale in Dallas to benefit Doernbecher Children's Hospital is planned Saturday, Feb. 28.
The Parker Stewart Mr. Dallas Rummage Sale is scheduled from 8 a.m. to 5 p.m. in the auxiliary gym at Dallas High School, 1250 SE Holman Ave.
Donations are being accepted and those with items to contribute can arrange to have them picked up.
For more information: 503-831-4743; e-mail to parkerstewartcorp@hotmail.com.
Health screening
set in Falls City
A free health screening is being offered to the public from 9 a.m. to 3 p.m. Saturday, Feb. 28, at the Falls City Community Center, 319 N. Main St.
Sponsored by the Dallas Lions Club and made possible by the Oregon Lions Mobile Screening Program, the health screenings include visual acuity, hearing, diabetes, glaucoma and blood pressure checks. A three-hour fast is required for diabetes screenings.
Local health providers have volunteered to assist with the screenings.
For more information: John Hamstreet, 503-879-9038; Valerie Unger, 503-623-4006.
Book discussion
group to gather
Independence Public Library will host a book discussion group on "Stubborn Twig" at 1 p.m. Saturday, Feb. 28.
"Stubborn Twig," by Eugene author Lauren Kessler, is the first selection of the Oregon Reads 2009 program, part of the Oregon Sesquicentennial celebration.
Copies of the book, which shares the true story of three generations of the Yasui family spanning across the 20th century in Hood River, Portland and Eugene, can be checked out at the library, 175 Monmouth St.
For more information: 503-838-1811.
Central jazz band
fundraiser on tap
Area residents have a chance to enjoy an evening of "Big Band" jazz on Saturday, Feb. 28, and help one of Central High's music programs in the process.
The school's jazz band will hold its annual dinner and dance auction in the Central High cafeteria. The event begins with a silent auction at 5 p.m., followed by dinner at 7 p.m., the live auction at 8 p.m., and dancing afterward to songs played by the band.
Ticket cost is $17.50 per person, $32 per couple and $12 for students. All proceeds benefit the band.
For more information: Tammy McCammon, 503-580-6205.
Punk band plans
concert in Dallas
Faithless Saints, a Portland-based punk band featuring two former Dallas residents, is performing on Saturday, Feb. 28, at the Guthrie Park Community Center, 4320 Kings Valley Highway.
The band, which includes Dallas natives Robert Rios and Erik Benton, is celebrating the release of its first recording, "Sweet Sacrilege."
The show starts at 8 p.m. Admission is $2. Also playing is another Portland band, Secnd Best.
For more information: www.myspace.com/faithlesssaints.
Humane Society
changes hours
Willamette Humane Society will be open five days a week effective Sunday, March 1, to serve the public, accept lost, abandoned and neglected animals, and facilitate adoptions.
The shelter, which serves Polk County through its office at 4246 Turner Road SE in Salem, will be open from noon to 7 p.m. Monday, Thursday and Friday, and from noon to 6 p.m. on Saturday and Sunday. The facility will be closed on Tuesdays and Wednesdays.
The new hours are due in part to the economic downturn.
For more information: 503-585-5900; www.WillametteHumane.org.
Life story writing
workshop meets
The monthly life story writing workshop hosted by Betty Plude will meet Monday, March 2, from 1 to 3 p.m.
The workshop, which takes place at the Independence Public Library, 175 Monmouth St., is designed to provide encouragement and ideas to help authors write their stories.
Workshops are held the first Monday of every month and are free. For more information: Betty Plude, 503-838-4039; Independence Public Library, 503-838-1811.
After-school art
program resumes
Registration is being accepted for the next series of after-school art programs coordinated by Dallas Intercommunity Activity Network.
The "Art Start" program for children ages 5-7 meets on Mondays from 2 to 4 p.m. beginning March 2. The "Art Adventures" program for children ages 8-11 meets on Wednesdays from 3 to 5 p.m. beginning March 4.
Both programs are held at Oakdale Heights Elementary School and are open to all children in the Dallas area. Cost is $35; need-based scholarships are available.
For registration and more information: 503-623-5055; e-mail to michelec@dallasican.org.
Signups accepted
for 'Total Fitness'
A new eight-week session of the "Total Fitness" exercise class begins Monday, March 2, in Dallas.
Instruction is provided in cardiovascular conditioning, strength training, and body conditioning, flexibility and relaxation.
The class, instructed by Fay Lanning, meets from 6:30 to 7:45 p.m. on Mondays, Wednesdays and Thursdays at the Academy Building gymnasium, 182 SW Academy St., Dallas. Cost is $40, payable to the Dallas School District.
For more information: 503-881-9235.
'Heritage Crafts'
meets Tuesdays
The Heritage Crafts program offered through Dallas Intercommunity Activity Network and the Dallas Senior Center resumes meeting every Tuesday beginning March 3.
Among the scheduled activities for March is a field trip to the Polk County Heritage Museum. Cost for the four-week session is $35; partial need-based scholarships are available.
To register or for more information: Dallas Intercommunity Activity Network, 503-623-5055; e-mail to michelec@dallasican.org.
State reps plan
town hall event
State Representatives Jim Thompson (R-Dallas) and Jim Weidner (R-McMinnville) will host a town hall meeting Tuesday, March 3, at 6 p.m. at Coyote Joe's Restaurant, 142 NW Main St., Willamina.
The meeting is part of a series of town hall gatherings scheduled by Thompson throughout District 23. Others include Tuesday, April 14, at 6 p.m. at Dallas City Hall.
For more information: 503-986-1165.
Grandparenting
group to meet
The local Grandparenting Again Support Group is now meeting every other month, with its next gathering scheduled Wednesday, March 4, from 7 to 8:30 p.m.
The group, sponsored by NorthWest Senior & Disability Services, meets at the Healing Hearts Counseling Center, 110 N. Monmouth Ave., Suite 104A, in Monmouth. It is designed for grandparents to come together and share the challenges of parenting again.
There is no cost to attend, but RSVP is requested. For more information: 503-838-6456.
Hospice exhibit
open in Dallas
Willamette Valley Hospice will exhibit a unique and life-affirming collection of photographs and biographies of current and past hospice patients at L'Attitude Point One Restaurant in Dallas during March.
The public is welcome to visit the restaurant during regular business hours to view the exhibit. L'Attitude Point One is located at 904 Main St. in Dallas.
For more information: Willamette Valley Hospice, 503-588-3600 or online at www.wvh.org.
Grants available
from United Way
United Way of the Mid-Willamette is seeking grant applications for its 2009-2011 funding cycle, which will be awarded in July 2009.
Programs funded by United Way support efforts that help children and adults achieve their potential, promote financial stability and independence, and improve people's health and independence.
All public or private, tax-exempt, health and human service organizations serving residents in Polk, Marion and Yamhill counties are eligible to submit proposals. Application deadline is March 23.
Applications are available at www.unitedwaymwv.org. For more information: Denise Swanson, 503-363-1651; e-mail to dswanson@unitedwaymwv.org.
M-I Rotary Club
gives dictionaries
Monmouth-Independence Rotary Club on Feb. 19 distributed dictionaries to every fourth-grade student in the Central School District.
The club has purchased and distributed dictionaries for each member of the fourth grade annually since 1994. The dictionaries are designed to help students with their studies.
The literacy project was conceived by then-club president Jim Birken in collaboration with the Rotary Clubs of Dallas and Salem.
Signups accepted
for karate classes
Dallas Intercommunity Activity Network is accepting registration for the next session of its "Karate for Everyone" program.
The four-week class, taught by Kristy Mitchell, begins Thursday, March 5, at the Morrison Gym in Dallas. The class meets from 6:30 to 7:30 p.m. Cost is $30 per person or $40 per family.
To register or for more information: Michele Campione, 503-623-5055; e-mail to michelec@dallasican.org.
Personal finance
seminar offered
Financial Peace University, a 13-week video program taught by Dave Ramsey, will be offered beginning Thursday, March 5, at 6 p.m. at Dallas Alliance Church, 775 East Ellendale Ave.
The program is designed to teach families and individuals how to handle money through common-sense principles and small-group accountability.
Attendees need a class materials kit, which costs $100. The kits can be shared by individual family members.
For more information or to register: Don Lawson, 503-507-3921; e-mail to donsyl5@msn.com.
Vendors sought
for home show
Vendor space is available for the second annual Polk Home and Garden Show, scheduled May 15-17 at the Polk County Fairgrounds in Rickreall.
Vendors can reserve space for this year's show at a cost of $250.
The Polk Home and Garden show is coordinated by Polk Productions and the Polk County Fairgrounds.
For more information: Deb Thomas, 503-428-8224; www.polkhomeandgardenshow.com.
Christian school
seeks donations
Donations are being accepted for Faith Christian School's upcoming fundraising auction, which is scheduled Friday, May 1, in Dallas.
All variety of products, services, trips, gift certificates or cash are welcome. Donations will be accepted through Tuesday, April 28.
For more information: Stephanie, 503-831-1383; Faith Christian School, 503-623-6632.
TV show looking
for home buyers
"My First Place" on Home and Garden Television (HGTV) is coming to Oregon and is casting in Portland and surrounding communities, including Polk County.
"My First Place" chronicles first-time homebuyers' struggles and successes as they go through the process of searching for, bidding on, inspecting, and ultimately buying a home for the first time.
The show is currently accepting applications from homebuyers who have just started their house hunt, or are ready to start looking soon -- with a reasonable expectation of closing by fall 2009.
For more information: Sara Adams, associated producer, 303-712-3125.