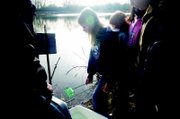 On the muddy banks of the E.E. Wilson Wildlife Area angling pond near the Polk-Benton county line, about 50 Luckiamute Valley Charter School students jostle each other to be the first to release inch-long fish fry into the water.
"They're not French fries, you don't eat them," puns Serena Rodriquez, 9, of Independence.
Rodriguez and her classmate in Elaine Austin's third- and fourth-grade Bridgeport School classroom, Rylie Lyell of Dallas, have learned that these young trout are called "fry." The girls learned this as part of their biology studies that included hatching the eggs under supervision from Oregon Department of Fish and Wildlife biologist Karen Hans.
Once the fry were old enough -- after about three or four weeks -- the fish were released into the angling pond this month. In the pond the fish may one day be caught and take part in another sort of "fish fry."
Approximately 20,000 fish per year are planted in the pond. Fish that range in size from 8 to 25 inches end up in the buckets of the more than 6,000 anglers who visit the pond, according to Kyle Martin, ODFW habitat technician who answered questions for the visiting students.
The planted fish also attract birds of prey, otters, beaver, nutria, and a bird Mary Wyckoff calls "My friend, Mr. Blue," a heron. The Independence student said she and her family are regular visitors to the E.E. Wilson refuge.
Hands-on projects such as these are a regular part of the Luckiamute Valley Charter School curriculum, according to Dan Austin, executive director of the school, which is now consolidated at Bridgeport School. Pedee School's approximately 20 middle school students are now at Bridgeport, due to shrinking school populations and budget cuts. One of their last acts as Pedee students was to hatch and release coho salmon fry into the Little Luckiamute River. The year before, Luckiamute students raised ducks.
"We like to provide the kind of projects where the kids can actually practice their science and see it," Austin said.
Raising and releasing fish is a unique opportunity for students, according to Martin.
Visitors interested in hiking, hunting or fishing at E.E. Wilson Wildlife Area, on Camp Adair Road about 10 miles south of Monmouth on Highway 99W, can get information from the Web site, www.dfw.state.or.us/resources/visitors/ee_wilson_wildlife_area, or call the office, 541-745-5334. The office is at 29555 Camp Adair Road.
For more information about Luckiamute Valley Charter School and its programs, call the school at 503-623-4837 or visit the Web site www.lvcs.k12.or.us.