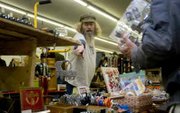 RICKREALL -- In the rooms packed with tables crammed with antique treasures and downright junk, be prepared to haggle prices with crowds.
During the first Sunday of the month from September through June, treasure hunters bump shoulder-to-shoulder in the main building of the Polk Flea Market at the Polk County Fairgrounds. For $1 admission, they browse to their hearts content -- and that could take hours. Luckily, the market is open from 9 a.m. to 3 p.m.
Vendors arrive early, some around 6:30 a.m., to haul in their wares and set up their displays. A tradition for customers and vendors, the market has been open since 1970.
Among the mass of used objects and homemade crafts are Harry Potter books, one lonely wooden clog, guns, Army medals, fishing gear, a snowboard, old dress patterns, James Bond paraphernalia, a Mickey Mouse viewfinder, and CDs ranging from Pavarotti to Metallica -- just some of the treasures hoping to go home with someone.
John Cash, a vendor from Dayton, gladly pays the $16 for his table at the fairgrounds each month. Cash said he began selling used items and antique collectibles about five years ago because he simply became sick of looking for work.
"It's not a living, it's a lifestyle," Cash said.
Cash's surfer T-shirt, long curly hair, missing bottom teeth and joyful laugh certainly made him stand out. His table was also unique as it was stacked with an extensive collection of pairs of scissors, and nail and cuticle clippers.
He said he bought the objects on the Internet from the state four years ago. They had been confiscated from passengers trying to get on flights at Portland International Airport. Today, he said he has stopped purchasing the contraband because less is available and the price increased.
Cash happily lives off the money he makes at this and other flea markets. He said he uses the income to pay his bills and buy food, and the rest goes to purchase more used items.
Shelley Lee, a vendor from Corvallis, began selling because of an obsession.
"It's basically an addiction I have to vintage jewelry," Lee said. "It's a family disease."
Her collection was proudly displayed in large glass cases. Pins, necklaces, earrings, bracelets and buttons sparkled, luring customers to take a look.
Lee said her parents owned an antique store and she has been collecting jewelry since she was young. She began selling pieces because she said she had too much of it to keep around. She sells her pieces online and at a space in a local mall to make room for the pieces she is constantly finding at estate sales and antique shops.
While she isn't collecting or selling, she trains student teachers at Oregon State University.
Lee said she loves selling at the market each month because she enjoys meeting collectors and learning more about her pieces from them. She also makes a pretty penny, too. She said she once sold a collection of sterling silver pieces for about $500.
Wyn Knight, an electrician from Portland, worked as a vendor with his father beginning at age 12. Now, he sets up his tables each month to clean out his house and gives no thought to supply and demand.
"I sell anything that I have that I don't want to look at," Knight said.
Knight's display included video games, DVDs and videos, books, G.I. Joe collectibles, an iPod and military clothing.
That day, Knight spent his time haggling prices with teens after video games just two tables down from his father, marking nearly 20 years of the family tradition.
The treasure hunters are veterans at the market as well.
Springfield resident Michelle Bivens has visited every month for the last 10 years just to browse.
"I'm a junk collector," Bivens said. "If you're a real junk collector, (the market) is worth your time."
She peruses antique stores and other Oregon markets too, but said the Polk Flea Market is the best because of the variety.
Bivens said part of the search she enjoys is taking home collectibles, such as dolls, and finding out that her $30 purchase is worth $125.
"I come because I'm too old to play pingpong anymore," Bob Stapleton from Dallas said with a laugh.
He and his wife Louise brave the crowd each month to collect calendars with thermometers and anything that strikes their fancy. One of his favorite finds was on his head that day -- a brown Stetson hat from the 1930s purchased for $10.
The Stapletons are like many shoppers -- folks just looking for something to do on a Sunday.
"It's really good entertainment for $1," Lee said.
That day, Flea Market Manager Deb Larson said more than 1,300 people turned out to hunt for treasures and low prices. She said that is the highest turnout for January in the last five years.
She said the market is booming because of low prices and customer loyalty.
"It's kind of like an institution in Polk County," Larson said.
The Polk Flea Market is open 9 a.m. to 3 p.m. the first Sunday of September through June. Admission is $1 and children age 12 and under are free. Serious collectors can get a jump on the search while vendors set up from 6 to 9 a.m. Early admission costs $5.
For more information, visit www.polkfleamarket.com.