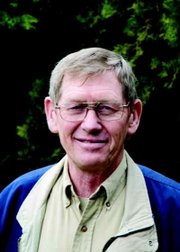 DALLAS -- After 28 years of representing farmers in the state legislature, Dallas resident Don Schellenberg has hung up his hat at the Oregon Farm Bureau.
Schellenberg's love of the land, farming and his steadfast faith made him a stellar liaison between local farmers and legislators.
"He surprises a lot of people because he is very quiet and humble, but very effective," Dave Dillon, the executive vice president of the Oregon Farm Bureau, said. "He's one of those people who is steady and knows where he's going."
Schellenberg's last day with the Oregon Farm Bureau as its associate director of government affairs was Dec. 31. As he was about to head to the office for the last time, he said he wasn't thinking about leaving. He was just doing what he needed to do.
Born and raised in Dallas, Schellenberg grew up on a prune farm. After graduating from Dallas High School, he attended two years of Bible college in Omaha, Neb., where he met his wife, Judy. He was drawn back to Dallas after college, but decided to move to Kansas to farm on his own for two years. Schellenberg said Judy and the weather made him move back to his hometown.
His family expanded its farm in Dallas and he began volunteering with the Oregon Farm Bureau in 1965. He worked his way up the ranks and served as its secretary, president and eventually the chairman of its government affairs committee.
Looking to expand his horizons, Schellenberg said he heard of an opening for a job at the bureau, but it had been filled the day he called. Instead, he was given the open position as a lobbyist.
He said the office job was certainly a different experience than farming.
"It was quite different," he said. "I was 38 years old. It changed from wearing jeans and a shirt to wearing a suit and tie every day."
Over the years, Schellenberg said he is most proud of his work that protected local farmers. He said he reviewed bills working their way through the legislature and evaluated whether they would hurt or help the farming community. Schellenberg helped make transporting machinery more safe and provided insight into many land-use issues.
This summer, Judy began having pains. Thankfully, he said they turned out to be nothing serious, but it made him realize he wanted to spend more time with her.
On Jan. 6, he and Judy went to Arizona to finally complete a home they have been building there and will return in three months. He will also continue to farm prunes, harry vetch and grass seed in Dallas.
In the end, he said he did not complete all of his goals, but he is satisfied with his work.
"Did I get everything I wanted to do done in the legislature?" he pondered. "By no means. But I did all I could do. You just don't fret about those things."