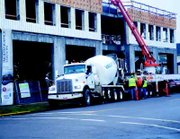 INDEPENDENCE -- There's been some visible progress on Independence Station in recent months.
A small fleet of trucks delivered 110 cubic yards of concrete in early December to form the floor of the third story, while crews have installed structural steel in the mezzanine level.
There have been a small, but steady flow of workers at the site of the 57,000-square-foot, mixed-use building since September.
Steven Ribeiro, owner and developer, said he had originally planned to renew work last summer after a long series of delays. But the date was pushed back to tap subcontractors who will create the mechanical, plumbing and electrical systems that will run Independence Station, Ribeiro said.
"We had to go out to bid because it was a job more complex than most contractors would do," Ribeiro said.
Westview Products Inc. of Dallas is among the businesses selected and will create the framework for ultra-energy efficient windows, Ribeiro said.
December's weather was another setback for the ambitious "green" project. Dan Maxwell of Johnson Controls LLC, the firm handling the construction, said activity was shut down for three weeks because of the amount of ice that had accumulated on the floors.
Framing on the first floor -- to accommodate the metal and brick panels of the exterior -- may start within the next month, Maxwell said.
On-site work should now be "full speed," though crews will be small because of the number of subcontractors involved, Ribeiro said. "Some of the problem is going to be them tripping over one another," he said.
Ribeiro is still pushing for a high ranking with the U.S. Green Building Council's Leadership in Energy and Environmental Design (LEED) program. The organization awards points for sustainable technology, materials and practices.
With that in mind, Ribeiro had 5,000 square feet of lumber salvaged from the old South Pacific Hop Warehouse -- demolished in 2006 -- re-milled this summer for use in Independence Station.
"We might use it for tongue and groove flooring or wainscoting," Ribeiro said.
And last July, Ribeiro purchased for $135,000 a property at 275 Monmouth St., just west of a home he bought a year earlier.
Ribeiro said the lot would be utilized for an as-of-yet undesigned part of his project, possibly a pocket park and pedestrian access point for the building.
And "we would actually like to save the house (built in 1900) and move it," he said.