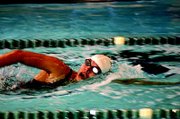 INDEPENDENCE -- Katrina Hill of Central has been with the school's swimming team since its inception four years ago.
During that first season, CHS started swimming at midseason and was not eligible for district and state competition. The CHS swimming program has come a long way since that first season. Now, the senior Hill hopes to cap her high school career by qualifying for the state meet.
"I definitely want to go for state, that's for sure," said Hill, whose best event is the 200 freestyle. "I need to drop about six or seven seconds. I'm swimming about a 2:19 right now. I'm going to have to work really hard. I'm not sure where I'm at right now because I'm so tired from all the practices we've been having. Once we start tapering, I feel I'll do a lot better."
Hill started swimming when she was a youngster living with her family in California. Her dad Kim Hill was a lifeguard, and "we were always close to the water."
The family eventually moved to Oregon, and Katrina started her competitive career with the Stingrays of the Monmouth-Independence YMCA around the age of 11 or 12.
"Swimming gives me a chance to be in the water, and I've always loved the water," she said. "Plus, it's very challenging. A lot of people say it's easier. But I played soccer for a while, too, and I can tell you swimming is one of the hardest sports you can ever do. You work on all your muscles, not just a few. Every day you're changing strokes and muscles and challenging yourself not to breathe as much.
"That's one of the hardest parts. Everyone wants air. Everyone likes to breathe."
Hill, like the CHS program in general, has shown steady improvement. She didn't come by it the easy way, either.
"She's been there from the very beginning, and she always swims above and beyond what we ask her to do," CHS coach Teresa Tolzmann said. "She's one of the hardest-working girls on the team. She swims long distance. She does sprints. She does it all.
"She's a leader for us but not a big, boisterous leader. She's a leader by example. They can learn work ethic and time management from her. She gets good grades, and she comes to practice on time."
Hill has other teenage interests such as wakeboarding, snowboarding and playing Rock Band on her X-Box 360. But, for the next month or so, she and her teammates will be more concerned with their aquatic endeavors.
"Our swim team is a good group of people who all get along really well," she said. "We're all working hard. We have a very good and dedicated swim team, and our boys team is going to rock at state."
Favorite class: Physics. "I love science. It's a fun class. I like how we learn not just about motion and stuff but we also learn good thinking skills."
Last book read: Chainfire, by Terry Goodkind. "I loved it."
Last movie seen: The Dark Knight. "It's a good movie. I loved that movie."
Favorite food: buffalo wings
Future plans: "College ... but I'm still undecided."