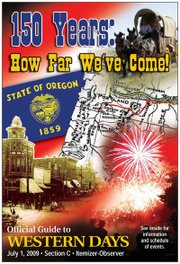 MONMOUTH/INDEPENDENCE -- Arguably the biggest Fourth of July celebration in the Willamette Valley kicks off this Thursday.
Western Days, which runs July 2-5, will feature its usual medley of parades, carnivals, guilty-pleasure fair cuisine, and musical performances.
All of which will be highlighted by a dazzling and ear-shattering fireworks show over the Willamette River in Independence on July 4 expected to attract between 15,000 and 20,000 people.
"People come because it's such an authentic, locally-based type of event," said Independence Mayor John McArdle. "You have people in a parade who are young and old, you have the Polk County Commissioners riding in a manure spreader (float), mayors and city managers work together.
"It's a community-wide party with lots of energy and enthusiasm."
The fun starts on July 2 at Riverview Park in Independence with Youth Night, featuring live music, a free movie showing and the opening of the carnival.
In Monmouth, the Monmouth-Independence Reconstituted Town Band will perform at 7 p.m. in Main Street Park.
Entertainment in both parks continue the next day, on July 3. The "Hometown Fireworks" show, a recent tradition for local residents, will occur in the evening at Riverview Park.
A children's parade and mini-marathon that begin in Monmouth will precede the two main attractions on July 4.
One of those events is the Grand Parade, which, as usual, winds through Monmouth and Independence. As part of the procession, the Oregon Mounted Governor's Guard will escort this year's grand marshals -- any willing and able veterans of all branches of the military who live in the area.
And in the evening, the night sky above Riverview Park will be awash in color during a nearly 45-minute fireworks display.
Monmouth and Independence joint July 4 celebrations date back to at least the late 1960s. Part of the foundation for what's become Western Days began in 1974 -- with a failed campaign by locals to have Monmouth selected as the host for the 1976 Winter Olympics.