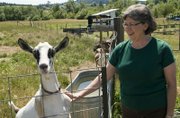 DALLAS -- A history professor and her retired husband have created a unique goat cheese operation in Dallas.
Laurie and Terry Carlson, self-described "foodies," visited Portland about four years ago and were in awe of the fresh fruits, vegetables and fish at the Portland Farmers Market.
The Carlsons left their 20-acre chicken farm in Cheney, Wash., for a 6-acre plot in Dallas at 2340 SW Fairview Ave. three years ago to be part of the local food movement.
However, owning 32 dairy goats was certainly not in the plan. The couple was more interested in growing berries and maybe having a few cows.
"Once we looked at the goats, it was all over," Terry said. "They're so personable and friendly."
The Carlsons found goats through Craigslist and fell in love with their cocker spaniel-like personalities. They took this "why not?" frame of mind and purchased five goats. The couple has been buying and breeding to the point that their herd now numbers 32.
"We just kept buying goats and the goats had more goats," Laurie said.
Terry spends his days fixing the buildings and milking the goats at their Fairview Farm Dairy while Laurie teaches history at Western Oregon University. Soon, that very same carefree attitude that led them to purchasing the goats, led them to enroll in a cheesemaking course in Portland last year.
The Carlson's found they both enjoyed the craft and wanted to pursue it more seriously, so they invested nearly $100,000 in creating a small cheesemaking facility on their property. Terry built a milking parlor and cheesemaking room equipped with a large refrigerator.
"We fixed it all up like a mini Tillamook (cheese factory) in here," Laurie said with a laugh.
The 50-gallon cheese vat used to be an abandoned ice cream machine found on the Internet. It was tweaked for its new purpose.
To ensure the best quality of goat milk, the Carlsons go above and beyond to treat their goats well.
The farm is Animal Welfare Approved, the only farm approved in Oregon through the Animal Welfare Institute. All of the goats have ample room to run outside and are fed kelp, garlic, molasses and munch on the blackberries on the property.
While on the milking stand, Terry will slip the goats an occasional peanut as a treat.
Every 72 hours, after collecting enough milk, it's time for cheesemaking. The farm produces only aged goat cheese and adjusts it with different cultures, salt and curing, Laurie said. The rough brown rind on the finished product makes it look like a peasant cheese made in Europe. However, she has also experimented with red wax rinds.
It takes four hours from start to finish to make the big round blocks of cheese, which sell for $12 per pound. The finished blocks sit in the large temperature and humidity controlled room for 60 days before they can be sold.
The Carlsons spent one year practicing milking the goats and experimenting with the cheese before they got the hang of it. Then they started showing off their new product.
In early June, the Carlsons took their cheeses to a cheese festival in Portland and were surprised at the positive feedback from the professional cheesemakers.
"I thought it was good cheese, but I wasn't sure what the connoisseurs would say," Laurie said.
All of the trial and error and cheesemaking courses paid off. The Carlsons entered the American Dairy Goat Association's national competition last fall and took home second and third place in the unflavored hard cheese category.
The cheese was picked up by small shops and sold to restaurants in Portland. It can now be found at Steve's Cheese and Elephant's Delicatessen in Portland, Abbie and Oliver's Artisan Cheeses in McMinnville, and at the OHSU Farmers Market on Tuesdays.
However, locals can certainly stop by the Dallas farm and purchase cheese on site or through the couple's Web site www.Fairviewfarmdairy.com.