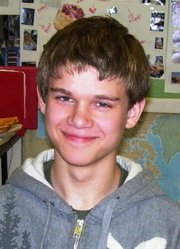 SCHOOL NOTES
DHS junior selected for exchange
DALLAS -- Brandon Berry has been selected as the Dallas Rotary Club's 2009-10 outbound exchange student.
Berry attends Dallas High School, where he is a junior.
Berry said he became a Rotary Exchange Student because he loves adventure. Through Rotary, this adventure is something he could have never achieved on his own.
Italy is the country of choice for Berry. He said after doing a little research, he learned Italians are a laid back and fun people -- a perfect fit for him.
"Being in a new country away from the North American lifestyle is exactly what I want," said Berry, who leaves for Italy sometime between mid-August and early September.
Rotary Youth Exchange is part of Rotary's primary goal of world peace. Rotary believes by developing understanding and friendship with people of other cultures and countries it is much easier to live in peace with them.
Hospital auxiliary awards scholarships
SALEM -- The Salem Hospital Auxiliary has awarded three local residents with scholarships to continue their medically related fields of study for the 2009-10 academic year.
Recipients include Krystle Miller and Drew Miller of Dallas and Scott Shane of Monmouth.
A reception to honor the recipients is planned Thursday, July 16, at Salem Hospital.
SMART program seeks volunteers
POLK COUNTY -- The local Start Making a Reader Today (SMART) program serving Polk, Benton, Marion and Linn counties is seeking volunteers.
SMART volunteers are needed at all levels to read one-on-one with kindergartners through third-graders who need literacy support. Volunteer applications are available online at www.getsmartoregon.org. Donations to the program are also being accepted.
For more information: Lee Tinker, 541-754-4903; ltinker@getsmartoregon.org; www.getsmartoregon.org..
ACADEMIC HONORS
Jodie Holmberg of Dallas received her bachelor's degree May 23 from Hamline University in St. Paul, Minn. Holmberg, a graduate of Dallas High School, graduated magna cum laude in global studies.
--
Helen Chaffee of Dallas is listed on the 2009 spring semester dean's list at the University of Portland. Chaffee is a sophomore majoring in Spanish. To qualify, students must earn at least a 3.5 grade-point average.
--
Clara B. Richardson of Dallas is among the students qualifying for inclusion on the 2009 spring semester dean's list at Northeastern University in Boston. Richardson is a liberal arts -- science major.
--
Nikki Stouder of Dallas has graduated from Mississippi Valley State University in Itta Bena with a bachelor of science degree in health, physical education and recreation.
--
Several Polk County residents have qualified for inclusion on the 2009 spring term dean's list at George Fox University in Newberg. They are: Kala Nicole Talbott of Amity; Elizabeth Anne Kean and Kristiina Evi Thomas, both of Dallas; Kirsten Mamie Fertig of Independence; and Grant William Knowles, Geoffrey Wade Knowles and Ashley Malee Parks, all of Monmouth.