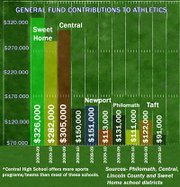 MONMOUTH/INDEPENDENCE -- Central High School athletes have garnered great success on the field and court in recent years -- and particularly in 2008-09.
That's when the community watched its girls volleyball team and a girls tennis doubles team bring home state championships. Its football, boys basketball, boys soccer and cross country squads advanced far in their respective playoffs, postseason tournaments or state races.
But if the program is to repeat those feats again in 2009-10, it must do so on a budget that has been slashed by more than 50 percent.
Central High sports were among the casualties during the budgeting process as school district officials scrambled to compensate for decreased state funding levels during the next biennium.
The school's athletic program will receive about $150,000 next year, down from $305,000 from the previous year, according to the district budget adopted in June.
"I was very aware that we would have to tighten our belt, but I wasn't looking at a worst-case scenario of cutting half the funding," said Shane Hedrick, Central High athletic director.
The reductions will mean fewer games or matches for all sports programs except basketball, football and volleyball.
Nine assistant coaching positions in various sports at the high school have been eliminated. Some of them might be willing to volunteer, "but I can't ask them to because that gets into contractual obligations," Hedrick said
The cuts have far outpaced those at several other 4A high schools in the state. Newport and Taft high schools -- both Val-Co League rivals of Central's -- will see 25 percent drops in their budgets in 2009-10, according to Lincoln County School District.
"We've had some huge success at Central at the 4A level," Hedrick said. "We're going from a highly competitive program to one that's going to have to fight to survive.
"We're going to get through it," he added, "but it will be difficult."
A Central budget built more conservatively than some other districts, the cost of renting facilities for high school home football games, and no agreements for pay reductions from faculty and classified employee unions were among factors that led to the cuts, said Superintendent Joseph Hunter.
Perhaps the most significant change was cutting many of the high school's freshmen and junior varsity teams.
For sports outside of football, swimming and track, there will be more athletes than there are slots available for them -- which will hurt some kids' chances of making a team.
Slashing some programs altogether was an early, but short-lived, discussion, Hedrick said.
"I didn't want to cut one in favor of another," he said.
Still, playing time will likely be harder to come by now for all but elite competitors, Hedrick said.
"It will affect those kids who need the sport," he said, "more than the sport needs the kids."
Peter Hoffman of Monmouth is a member of the Central Panther Club, a booster organization. His sophomore-to-be son plays sports at Central, as did his daughter before she graduated this spring.
"The district was in a position where it was cutting teachers, so it's hard to justify sports when they're doing that," Hoffman said.
Still, Hoffman noted that he recently asked his son if he had to choose between participating in sports at a different school or staying at Central High with his friends if there was no program, what would he do?
"He said he would want to move," Hoffman said. "That surprised me, but it's that important a component of his high school experience."
The Panther Club will try to raise between $80,000 and $100,000 to shore up the deficit with scrip fundraisers and its annual October auction, Hoffman said.
"It's been done before," he said. "But economic times now are a lot different."
The situation at Central High is compounded by the loss of the sports program at Talmadge Middle School. Organizations such as Central Youth Sports might help fill that competition void, Hedrick said.
J.J. Waddell, a Central High sophomore this fall who played football, basketball and golf last year, said he thinks a reduction in the number of teams will hurt some of his classmates.
"Sports are pretty important," he said. "It's why a lot of students keep their grades up."
Martin Robison, a senior-to-be and three-sport athlete, said he felt bad that some underclassmen may miss out on making a team.
"That could have been me during my freshman or sophomore year," Robison said.
"I played freshman sports, and because it was a little more relaxed, it gave you an opportunity to learn," he said. "It was one of the building blocks for me."
--
What's happening ...
Budget cuts in the Central School District will result in changes to the Central High athletic program during the 2009-10 school year.
Changes include:
* Football, basketball, and volleyball programs will eliminate their freshman teams
* Boys soccer, girls soccer, baseball and softball will field varsity teams only.
* Boys and girls track and field, which for the past several years has not required participation fees, will reinstate a "pay-to-play" provision.
* Central High will move three of its five home games from Western Oregon University's football stadium -- which Central leases for $2,000 per game -- back to either a visiting team's stadium or to Central High.
* All sports, except for football and boys and girls basketball, will reduce their game/match/meet schedules.
* Nine coaching positions -- most of them assistants -- will be cut.
* Cross country, swimming, golf, wrestling, and track and field will not eliminate any spots on the team.