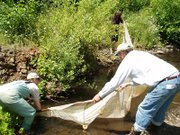 KINGS VALLEY -- Without help from neighbors, a project improving a three-section area of Maxfield Creek, near Kings Valley, might still be waiting for full funding.
Scott Snedaker, biologist for the Salem District Bureau of Land Management, said that support from the Luckiamute Watershed Council and private landowners bolstered the multifaceted project so that the road to the logging sites not only got needed repairs and replaced culverts, but also the project improved fish and wildlife habitat, reduced erosion and improved the creek's flow.
"It's a win-win situation," said Michael Cairns, project manager for the Luckiamute Watershed Council.
The creek feeds into the Luckiamute River and is a haven to young trout and steelhead, searching for cooler refuge when the summer water turns warm.
The unique cooperative project was the highlight of a tour last month that included about 20 landowners, volunteers and agency representatives from the Kings Valley area.
Those on the tour heard Snedaker and Cairns describe the project affecting nearly 2,000 acres of Willamette Valley land, and about 2.5 miles of Maxfield Creek -- land owned by BLM, Starker Forests and other private landowners, and impacting dozens downstream.
Although log placement work to improve stream flow and habitat continues, the tour June 27 showcased the cooperation that watershed councils make possible among owners and agencies with various -- and sometimes even competing -- interests. Coordinated by the council, Oregon Watershed Enhancement Board and BLM combined their funds and expertise to get the work done.
Watershed councils add another level of interest to traditional road-building, culvert replacement or bridge projects, according to Cairns. Council support is aimed at conducting those activities in ways that improve the environment.
At Maxfield Creek, for example, commercial logging activities will clear the way for a historic oak woodland and meadow now crowded with conifers. Some of the trees logged will be placed in the creek to create pools for native fish, hold back high waters to prevent deep bank gouging, and create a natural, meandering stream attractive to native fish.
In addition, two portions of the logging road, which was slumping into the creek, were moved uphill. Failing culverts were replaced with larger culverts that are no longer barriers to fish.
To show visitors what's being protected in the creek, Snedaker helped Karen Hans, fisheries biologist for Oregon Department of Fish and Wildlife, net native trout, crawdads and sculpin.
The tour itself was a study in cooperation, enlisting help from a bus driver and cook from Kings Valley Charter School, local volunteers and other people tied to the land. Gary Blanchard of Starker Forests added the private landowner's perspective: improvements provided his company with access to forest lands.
In times when tight budgets are the rule, cooperative projects like these -- that at once benefit private landowners, loggers and wildlife -- could provide a template for future projects, according to Hugh Snook, ecologist for the Bureau.
During commercial thinning and traditional harvests, the land will produce an estimated 4.6 million board feet of Douglas fir, generating jobs and funds for the contractors, for Starker Forest and for BLM.
The tour was organized by the Luckiamute Watershed Council to inspire local landowners who may need similar improvements on their lands downstream.
Snedaker continues to work with the local council, offering his expertise as a member of the projects review committee. Another BLM employee, Jamie Parker of Dallas, is a member of the council.
For more information about the council's activities, visit the Web site, http://luckiamute.watershedcouncils.net and click on "What We Do." For more information about watershed councils in general, visit www.oregonwatersheds.org.