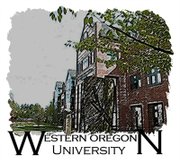 MONMOUTH -- Tuition at Oregon's public universities, including Western Oregon University, will grow next year, but not by as much as previously anticipated because of decreased state funding.
Gov. Ted Kulongoski announced his intent last week to veto a House bill approved just before the end of the legislative session that would decrease by $11.4 million the amount of appropriations higher education institutions receive during the next biennium.
The State Board of Higher Education, in response to Kulongoski's proposal, approved 2009-10 tuition levels on July 10, limiting maximum hikes to 9 percent for large campuses, such as the University of Oregon, and 6.5 percent for smaller schools, like Southern Oregon University.
Because of the $11.4 million cut, Western and other universities were considering raising tuition -- a major revenue source -- by an additional 1 percent or 2 percent beyond already-significant proposed hikes, said Mark Weiss, WOU executive vice president.
"This sends a positive message from the governor that even in dire economic times, affordability is still important for our students," Weiss said.
Western's situation is different than other schools because of its tuition guarantee, which freezes costs for new students for four or more years.
Incoming freshmen at Western will now pay about 9 percent more in tuition than their 2008-09 counterparts.
Tuition and fees together would increase by about 7.8 percent -- or $500 -- over the previous year's amount for a WOU resident undergraduate for a full-academic year.
A press release from the governor's office said his veto warning means that Kulongoski could make his intent to veto official by the end of the week, "if he chooses to do so."
His proposal would also restore the $11.4 million reduction through a tax amnesty program, Kulongoski's office said.
Despite a veto, Oregon universities will still receive 10 percent less in biennial funding then they received in 2007-09, and are 13 percent short of an essential budget level needed to maintain current services.
Weiss said universities and other state agencies still face a huge risk early next year, if the nearly $750 million in corporate and individual tax increases approved to balance the 2009-11 state general fund are referred to and defeated by voters in a January special election.