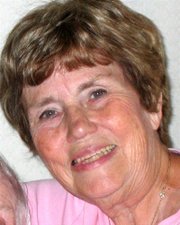 The Major League Baseball All-Star game last week was a happy summer event. We took some time to relax from chores and responsibilities to watch the best players in the American and National leagues at Busch Stadium in St. Louis, resplendent in their home team uniforms.
Baseball Hall of Famer Stan Musial, former Cardinals outfielder, handed the baseball to our enthusiastic and athletic president, Barack Obama, who, wearing his Chicago White Sox jacket, stood proudly on the pitcher's mound to throw the ceremonial first pitch of the game.
The 4-3 victory by the American League just made the evening even more special for the Boston Red Sox fan who shares my world.
--
Those all-stars reminded me of others I've been fortunate enough to meet. They don't wear special uniforms or their names aren't announced over a public address system in a major league stadium filled with fans.
We see these people everyday -- walking, driving, mowing the lawn, grocery shopping, or at the coffee shop. Because of state and federal privacy rules, those on my all-star team must remain anonymous.
Several years ago, I became a member of a Citizen Advisory Board for Polk County. It's one of the hardest -- and most rewarding -- jobs I've ever done. The reward has nothing to do with money, as we are volunteers appointed by the Chief Justice of the Oregon Supreme Court.
Every month, we review cases of children in foster care to be sure they are receiving good educational and medical care and are living in a caring and responsible home. It has been a joy to see these children thrive because of the goodness of those who are responsible -- foster parents, caseworkers, teachers and counselors who have the patience and love and spend time to heal these harmed and damaged little ones.
It's so very rewarding to shake the hand of a young man who is bound for community college next fall because a family took the chance -- and the opportunity -- to welcome him into their home and to help teach him responsibility.
It is a happy moment to see a couple legally adopt the child they've loved and cared for. It's rewarding to see a young mother fight -- and win -- the battle over drugs or alcohol, to find a job and housing, and regain custody of her children.
Thank you to the social workers and attorneys, police officers, counselors and judges, the countless sponsors who help those addicted to drugs or alcohol in their recovery, and the foster parents who open their homes and their hearts and give hope to those so vulnerable. You are the all-stars who have made good things happen in MI Town.