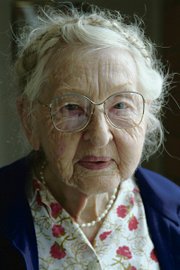 We passed Cycle Oregon riders on our way to Pedee Memorial Evangelical Church Sunday morning, July 19. We saw many bicyclists at Maple Grove at a rest stop. They had a sunny morning for their ride.
There were only a few people at the church when I arrived, but soon others came for the 10 a.m. worship service. Among those arriving was Rev. Marion Seick, the guest speaker, and his wife. He opened the service with prayer and then turned it over to Dan Hayes, who led the songs of praise.
Hayes asked Rev. Seick to lead the sharing time. Pat Lyday was happy her daughter Vicki and Leo Wood from Las Vegas, who were coming up the coast from California, were near Newport and would soon be at their home. Others shared and Seick closed with prayer.
Pastor Lonnie Burbank arrived.
Dan Hayes had prayer before the offering was received.
Seick had prayer before his message. He read the scripture Mark 5: 21-43 for his thoughts on "Don't be Afraid -- Just Believe." He closed his message with prayer.
Pam Burbank passed out copies of the Pedee Church 2009-2010 elected and appointed positions for the Congregational meeting.
The Sunday worship folder had the Evangelical Church update for July, with the prayer prompter for missionaries and their needs and "harvest news" from churches of the conferences.
Also included in the folder was Pastor Burbank's report of church activities during the past year for the Congregational meeting. In it he included details about his body losing strength and organs shutting down. He lost his voice.
Pastor Burbank took over the meeting. He reviewed the list and it was accepted. Pastor Burbank closed the meeting with prayer.
The cookie fellowship following the service was shared and enjoyed.