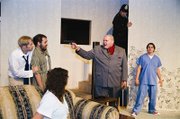 BREAKOUT BOX
What:
"Tom, Dick and Harry," a summer production of the WOU Theatre Department.
When:
Wednesday, July 29; Thursday, July 30; Friday, July 31; and Saturday, Aug. 1. All shows start at 7:30 p.m.
Where:
Rice Auditorium, Western Oregon University, Monmouth.
Tickets:
General admission, $12; seniors, $10; students, $7.
Information:
503-838-8462.
MONMOUTH -- The plot of "Tom, Dick and Harry" certainly seems farfetched, with bootlegging and body-part smuggling threatening to derail a couple's prospects for adopting a baby.
Then again, famous playwright Ray Cooney's comedy isn't meant to be an exercise in plausibility, but to cause its audience to bust a gut laughing.
Western Oregon University's Theatre Department will present "Tom, Dick and Harry" at 7:30 p.m. July 29 through Aug. 1 at Rice Auditorium.
Western traditionally performs four main stage shows and three studio plays during the regular school year. Its summer shows are usually reserved for comedies, said WOU professor and theater director David Janoviak.
After months of delving into Shakespeare and dark comedy, "Tom, Dick and Harry" is a welcome change of pace, he said.
"We like to keep it light during the summer to give it a summer stock feel," Janoviak said. "It's fun for the audience and for the cast."
Cooney's play was first performed in 2003 and has been an international stage hit in recent years.
"Tom, Dick and Harry" are the names of the production's three sibling protagonists. Tom and his wife are trying to adopt a baby, while Tom's well-meaning, but unscrupulous brothers put that wish at risk with their illegal activities during an adoption agency home visit.
The play is an old-fashioned British farce -- of which Cooney is a master -- and juggles elements such as mistaken identities, innuendo, flying doors and, in this case, flying body parts.
That it's a comedy doesn't make it easier to perform, said Janoviak, who refers to farce as "choreographed chaos."
"It's challenging," said Colton Ruscheinsky, a WOU junior who portrays Tom. "The cues have to be spot on, and the pace has to be at one (fast) level for an extended period of time."
Performances leave you "exhausted," Ruscheinsky added.
Summer productions aren't quite on the same scale with regular school-year counterparts, as most students are on summer break. Sometimes community members are invited to audition for roles.
But there were enough theater students working around Monmouth this time to round out the nine-person cast. Janoviak said they've been rehearsing 20 hours a week for the past month.
"Death is easy, comedy is hard," he said. "But the actors are doing a magnificent job and I think we have a strong show on our hands."
"Tom, Dick and Harry," stars WOU students Colton Ruscheinsky and Joey Baker as Tom and Dick, respectively, and alumnus Paul Malone as Harry.
Tickets are $12 for general admission, $10 for seniors and $7 for students. They can be purchased at Rice Auditorium by calling 503-838-8462.