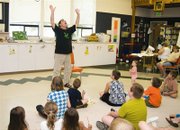 FALLS CITY -- A queen found herself trapped in a troublesome bubble, a fisherman taught a fish to walk, and a one-eyed, one-legged, one-winged chicken embarked on a quest to meet a king in Falls City Monday.
Each adventure was part of storytime at Wagner Community Library performed by professional storyteller Will Hornyak.
About 20 children listened to or helped Hornyak act out his drama-filled stories, leading to the queen's escape, the fish remembering how to swim, and the chicken becoming an important figure in the kingdom. The stories' happy endings were a fitting conclusion to the library's successful summer reading program.
In addition to storytelling, the seven-week program featured magicians, a comedian, jugglers, reptiles and whole lot of reading hours.
Library Director Juli Fleener said the children were given a ticket for each quarter hour they read each week and the tickets gave them a shot at winning a prize in a drawing. Fleener said the more tickets they had the more chances they had to win, so the drawing served as an incentive to read more.
And read they did.
Fleener said most weeks the library activities drew 30 to 40 readers and her goal was to see the children read a combined 500 hours. They far exceeded that goal, and put in almost 620 hours since the program started in mid-June.
"We've got a few really big readers," Fleener said.