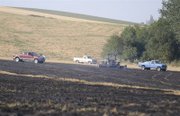 POLK COUNTY -- Firefighters battled a grass fire that charred 10 acres and destroyed a tractor four miles southwest of Monmouth on Monday, July 27, officials said.
Polk County Fire District No. 1 received a call about the incident at 9735 Helmick Road at 4:39 p.m., Chief Jason Cane said.
The large-model John Deere tractor and the property are owned by Bob Cook. Cane said Cook's driver was flail chopping straw when the back of the tractor caught fire.
Flames spread from the vehicle to the flail chopper it was pulling, and then the field.
Firefighters from Polk No. 1, SW Polk Fire District and Adair Fire District managed to contain the blaze after two hours.
"We did have some changing winds," said Division Chief Neal Olson. "Initially the fire was blowing to the east, we attacked it there, then the winds shifted and moved the fire to the south."
Cane said while the exact cause of the fire is still being investigated, the incident was accidential and probably mechanical in nature. The tractor and equipment were a total loss, with combined damages estimated at $60,000 to $70,000, Cane said.