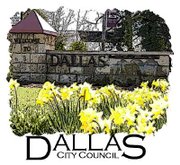 DALLAS -- The Dallas City Council is fed up with the seemingly lack of progress at the Blue Garden restaurant at 827 Main St., and some members want the city to finally take matters into its own hands.
"We need to have this addressed and finalized," City Manager Jerry Wyatt said at a council meeting on Monday night.
Wyatt said the city has been trying to get in contact with the building owner, Jennifer Goodman. Time is of the essence as her roofing permit expires June 19 and it needs to be evaluated before that date.
Putting a new roof on the building is the first step in the plan the city and Goodman worked out to restore the building and make it safe.
Without the roof being completed, the entire project will stall once again and the city will still have a dangerous building hindering its downtown core.
Wyatt said it has been about three months since the city's building inspector was last inside.
If no work has been done, the city could fix the problems and bill Goodman for the work.
"We could get stuck with the bill, but there's a sense of urgency here," Councilor Warren Lamb said.
The council agreed the next step is to inspect the inside of the building and keep the issue on the front burner.
--
In other news, the dead trees on Main and Court streets will be removed June 15. Root and soil samples should return in two to three weeks with the cause of death.