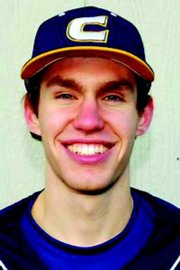 DALLAS -- Perhaps as you are reading this, former Dallas Dragon Jason Braun is waiting for a phone call.
You might say he's waiting for THE call.
"If I get drafted, I definitely will sign a contract and get a chance to play," Braun said, referring to the Major League Baseball draft. "I just want the opportunity. If I could pick, I'd like to go to the (Tampa Bay) Rays or (Los Angeles) Dodgers. They both have good player developmental programs. Even if you get drafted, it's still a long road to the major leagues. Los Angeles and Tampa Bay do a good job with the players they draft."
The first three rounds of the draft were held June 16. Rounds four-50 are being held today.
Braun played basketball and baseball at Dallas before graduating in 2005. He was one of the top pitchers on the 2005 Dallas baseball squad that earned the No. 2 playoff berth in the Pac-9 Conference. That team also won an 8-7 thriller against Marshfield in the first round of the playoffs -- Dallas' only Class 4A postseason win in baseball -- before falling at Grants Pass.
After leaving Dallas, Braun went to Corban College in Salem, where he also played basketball and baseball. At first, there was little or no reason to think Braun ever would draw the interest of professional scouts. He won a total of three games his first two years in college with his velocity topping out at a rather mundane 84-85 miles per hours.
Things began to change after Braun spent a summer playing in Central Oregon for the Bend Elks. He somehow discovered an extra gear with his fastball, and scouts began to take notice.
"During the summer before my junior year, I went from about 84 or 85 mph to 90 or 91," Braun said. "That's when I started to get a look. I don't know what it was. Maybe part of it was just maturity. Part of it was playing for a good summer team with a good atmosphere. But part of it was me just growing up and getting a little stronger."
The increased velocity did not lead to a big jump in Braun's win totals. He went 2-9 with a 7.23 earned run average as a junior. He was 2-8 as a senior, but his ERA dropped to a school single-season record of 3.46. He struck out 79 batters in 78 innings pitched and was named the school's Male Co-Athlete of the Year.
During his four years at Corban, the Warriors had a cumulative record of 49-127, never winning more than 14 games in a single season.
"Baseball-wise, it was not very good," Braun said. "Our team was not successful at all. My numbers and statistics weren't very good until this year. But I enjoyed myself and grew as a person. Plus, I've got a degree now."
As he was speaking, Braun and father Ken were driving away from Dodger Stadium in Los Angeles. The younger Braun had just participated in a pre-draft one-day workout run by the Dodgers with about 70 other players.
"We flew down last night, and they had the camp today," Braun said. "The pitchers just throw pitches with all the scouts watching. The outfielders and infielders all throw and hit. Everybody does a little bit of everything.
"It went pretty good. I've been to a couple other camps, but this was the largest one I've been to. This probably was my second-best camp. It was a good experience to be at Dodger Stadium. It's kind of on top of a hill with a bunch of palm trees. Last night, we went to the Dodger Game and sat in Bleacher Beach. It's some kind of promotional thing. We got to eat free all game long."
The baseball draft is far less predictable than those in football or baseball. San Diego State pitcher Stephen Strasburg was expected to be taken by the Washington Nationals with the No. 1 pick. Everything after that is pretty much a mystery.
Braun could be taken as early as the 10th round. Or he might not get picked at all. He is rated as the 10th-best Oregon-based prospect in this draft by Baseball America.
"I haven't heard anything from scouts round-wise," Braun said. "There's something online that says I should go somewhere between the 11th and 20th rounds. Once it gets passed the 15th round, it kind of turns into a crap-shoot. Hopefully, I'll get taken somewhere before the 25th round. It would be kind of cool to be taken in the first half of the draft."