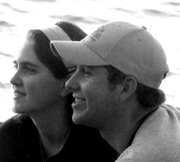 Henrick-Padilla
Ashley Louise Henrick of Falls City and Nathan Tyler Padilla of Dallas are planning a June wedding.
The bride-to-be is the daughter of John and Lisa Henrick of Falls City. Her fiance is the son of Peter and Joyce Padilla of Dallas.
Ashley is an office assistant at Dallas Select Storage.
Nathan is a seafood clerk at Safeway in Dallas.
The wedding is set for Thursday, June 18, at Green Villa Barn in Independence.
More like this story