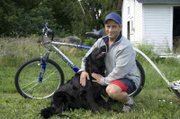 RICKREALL -- After biking all over the world during his 42 years of life, Brennan Todd, is embarking on a bike ride for life from Prudhoe Bay in northern Alaska to the southernmost tip of South America in Tierra del Fuego.
Todd was 8 years old when he first learned to ride a bike.
"I remember my first ride and the branch that stopped it," Todd said.
Today, Todd has many more successful rides around the world under his belt and works as a lifeguard and volunteer firefighter in Rickreall. He has been saving up his money to take time off from work for his latest excursion.
Todd left Tuesday, June 16, after packing his $30 bicycle, trailer, clothes, food and his dog Star and hopped onto an airplane to head north. Todd scored his bike through a bargain with a friend.
He will make his way from the northern to southern hemispheres along the west coast of the Americas. Along the way, he plans to stop at homeless shelters to volunteer his time.
"I want to be able to say 'I went here to here and had all these opportunities to help people,'" Todd said. "It's a celebration of life."
Dolores Todd, his mother, said she will miss her son as he takes care of her and their home. But she said she is very proud of the person he has become.
"He's turned out to be a very spiritual young man," Dolores Todd said. "He's much more giving than I am. I've made some donations I might not have made because of him."
Todd said it is harder to say goodbye to friends and family this time because he knows his journey is long.
But while Todd will be pulling the heavy trailer 12,000 miles and averaging 35 to 40 miles a day, he will not be alone.
His dog Star will ride in the bike trailer he will pull along the way. A student at the University of Oregon will also ride with him from Alaska to Eugene. These companions coupled with the people he will meet on the road will ensure Todd will have company the whole way.
Along with Star packed in the trailer, he will keep food, T-shirts, bike shorts and other necessities. His experience from previous long rides truly helps him in this area.
Todd knows he will be lucky enough to come across some laundromats, but doesn't mind washing clothes in a creek if need be. He plans to have plenty of food for the more remote roads in northern Alaska, but knows he won't starve. In the past, he has even performed magic tricks along the road for bananas.
Before his journey, Todd has given much of his clothing and possessions to charity, so he doesn't mind not taking much with him.
"When I'm out bicycling and it's only the bike, the trailer and what's on it, it's such a great feeling," Todd said. "It's not cumbersome."
While he expects to reach the south tip of South America in April 2010, Todd isn't setting any deadlines for his ride. If he wants to spend an extra night in Central America helping the homeless, he can.
However, when he does reach his destination, he plans on having a dinner of canned beans and Oregon wine. From there -- who knows? He said he will consider traveling to Rome, Spain or even Africa on his bicycle.
"But that's extra," Todd said. "You never know what life's going to have around the next road."